Hey there! Veronica here from
VK Create
! Thanks so much for stopping by during my 'special week' as a Guest Designer here at Everyday Cricut! I'm so happy to be sharing a little of myself and what I do with you here today (and all week long)!
I'm really good at shopping for girls' birthdays. My husband and I have 4 nieces (ages 18, 7, 6, 6), and I've had a lot of fun buying pretty dresses, girly toys and sparkly shoes over the years.
But we also have 6 nephews (whom we love and adore, of course).
The littlest ones are easy. Boy toys. And since my husband is still a kid at heart, he's great at picking out the coolest toys for them.
But as the boys get older, buying them gifts gets harder. Instead of asking what they want now (which usually yields an answer of "I don't know" anyway), we just give 'em cash. Easy peasy.
Today is our nephew, Zack's birthday - he's turning 9! To hold his 'present', I created a long vertical card (3.5" x 8.5") to fit inside a business envelope. This way, the cash can lay unfolded inside.
Click photo for larger view
The birthday cake on my card is from the
Stretch Your Imagination
Cricut Cartridge (cut at 6.5"). After cutting out all of my layers, I stamped the dots and zig zags from My Creative Time's
Hello Spring
stamp set in
Versamark
on the cake and embossed them in white. I used my white gel pen to highlight the candle flames and glittered the flames with
Star Dust Stickles
(my fave).
After layering my patterned paper (
Nana's Kitchen DCWV Paper Stack
) onto my card base, I hand cut the turquoise layer behind the cake. I love using this funky, not-so-square shape on my cards. There is no real trick to it - just cut at angles! I then paper pierced the edges for some added flair.
After stamping my sentiment (My Creative Time's
Celebrate Good Times
), I cut it out with the same method as the turquoise cake layer and cut an orange piece to mat behind it.
If you're familiar with my style, you won't be surprised to know that most of the layers are popped up for dimension!
I'm sure this card will be a HIT with our nephew. Well, maybe not the card as much as the money inside! *giggle*
Thanks so much for allowing me to share today! I'll be back tomorrow with another project.
I hope you were inspired!
- Veronica
Be sure and check out Joy's and Melanie's personal blogs for more creative goodness at
Obsessed with Scrapbooking
and
Courtney Lane Designs!
Click
HERE
to learn how to leave comments.
Click
HERE
to learn how to find OVER 600 project ideas on this site! Have a great day!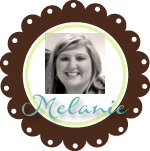 Subscribe to Everyday Cricut
to learn more about ways to use the Cricut in your cardmaking and scrapbooking!