Hey everyone! This is Carrie from
greenbean's crafterole
and I'm super duper excited to be a guest designer here at Everyday Cricut! So for a whole week, no Joy and Melanie. You're going to have to put up with me! Hope you're okay with that! Hee Hee. So who's ready for a project?
With Valentine's Day fast approaching, I thought that some lovey dovey fortune cookies would be super super cute! And since I don't cook, they're made from paper! These are beyond easy to do and can be used for any kind of occassion! You want the recipe? Well fortunately I did up a tutorial!
Hope you enjoyed day one as much as I did! See you tomorrow!
***Supplies***
Paper - Be Mine collection from Echo Park
Stamps - You Had Me At Chocolate set from My Creative Time With Emma
Be sure and check out Joy's and Melanie's personal blogs for more creative goodness at
Obsessed with Scrapbooking
and
Courtney Lane Designs!
Have a great day!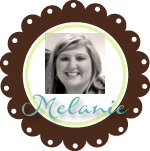 Subscribe to Everyday Cricut
to learn more about ways to use the Cricut in your cardmaking and scrapbooking!