Hi everyone, this is Susan from
Busy with the Cricky
here in sunny South Carolina. We have had a mini heat wave (76 degrees today!!) and it has me thinking and wishing and hoping for spring! I decided to craft a little warm weather fun in order to be ready when pool season begins. How about these fun flip flips? And you are going to be amazed at how easy they are to create!
You will need only one cartridge, Walk In My Garden. You will also need a really inexpensive pair of flip flops - these hot pink cuties came from Target where they cost me about $3.00. You will also need four prints/solid 6 x 6 inch squares of fabric that has been backed with interfacing or fabric stiffener - I used the adhesive backed "fabric paper" (
Dear Lizzy by American Crafts available at HERE
)
and peeled the backing off on all but the bottom layer of flowers after cutting. Other required elements include two matching buttons, a strip or two of coordinating ribbon, and adhesive backed Velcro squares.
I set up a cut file in order to cut all of my pieces on one mat. The cut file is available on my blog and is titled Flip Flops with Flowers. I set up two pages, a preview of the layered flower and one cut page. If you choose not to use a cut file you will need two large flowers, each cut at 2.75 inches, 2.25 inches, two flowers cut at 1.5 inches, and finally, two flowers cut at 1 inch.
If you are using the Dear Lizzy line of Fabric Paper, leave the backing on the largest flower. Remove the backing from the two middle flowers and center them together over the largest flower. Cut your ribbon strips and place them in an X pattern over the middle of the flowers and top with the smallest flower. Use thread and needle and sew through all of the layers to add the button into place.
Cut a square of Velcro in half and attach half to the back of each layered flower. Affix the matching half to the top of the flip flop, just above the toe thong. Attach the Velcro halves together and go ahead and strut your stuff! Your feet will be so happy to see the light of day again that they may do a little flip flop dance!
If you would like the cut file, remember it is available at my blog,
Busy with the Cricky
, in the left column - free cut files - under the title
Flip Flops with Flowers!
!! I hope you all have a wonderful weekend and I will see you again next month!
Be sure and check out Joy's and Melanie's personal blogs for more creative goodness at
Obsessed with Scrapbooking
and
Courtney Lane Designs!
Have a great day!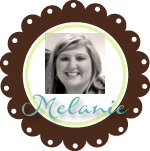 Subscribe to Everyday Cricut
to learn more about ways to use the Cricut in your cardmaking and scrapbooking!