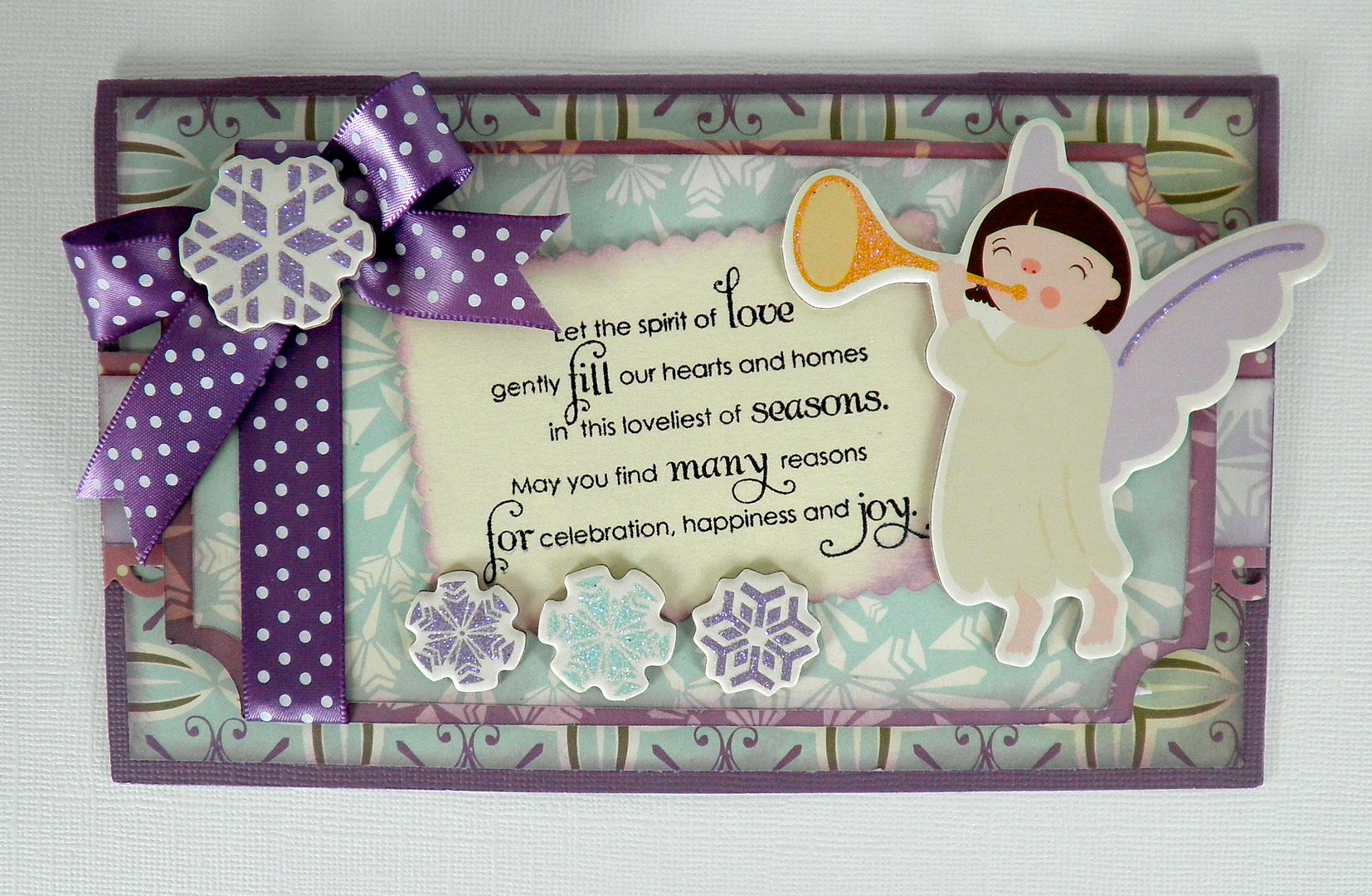 So, how about purple and light teal for Christmas? I LOVE IT!
Today's purple card is from the
Cricut Birthday Bash cartridge
and is made up of the card shape itself and then the ticket shape mounted on top of the card. See below for the actual cut shown in the handbook on page 30:
I cut the card at 4-1/4" and the final dimensions of the card are 4-1/4" x 7". The ticket shaped section was cut at 4-1/4" and also at 4" so I could layer the pieces.
The paper is
Cosmo Cricket's Mitten Weather
line and I used the angel and snowflake chipboard shapes from the
Cosmo Cricket Mitten Weather Ready Set Chip collection
. I popdotted the ticket section to give some dimension. The ribbon and stamped sentiment are by Papertrey Ink. The card base was cut using Core'dinations cardstock - a perfect color match!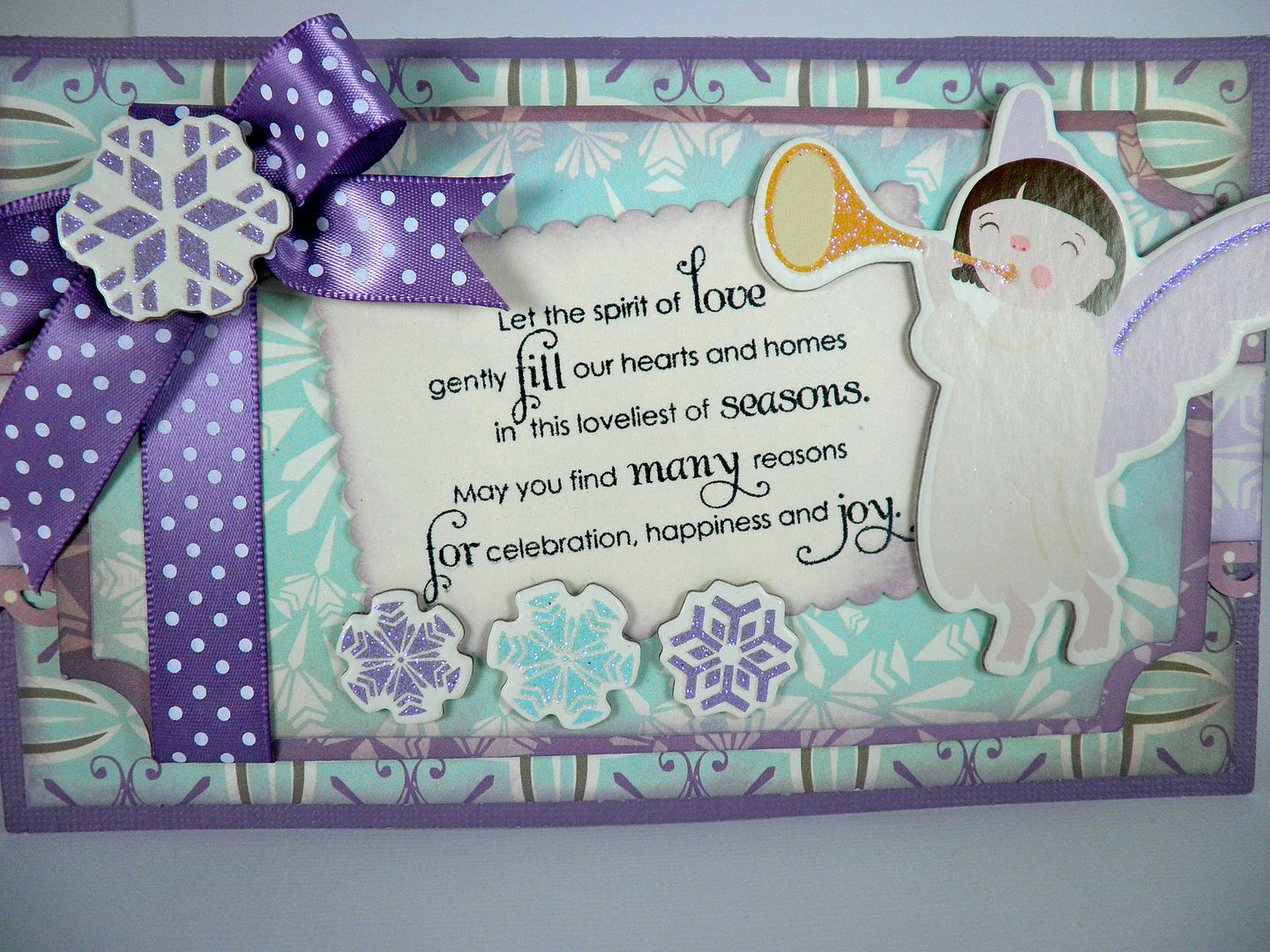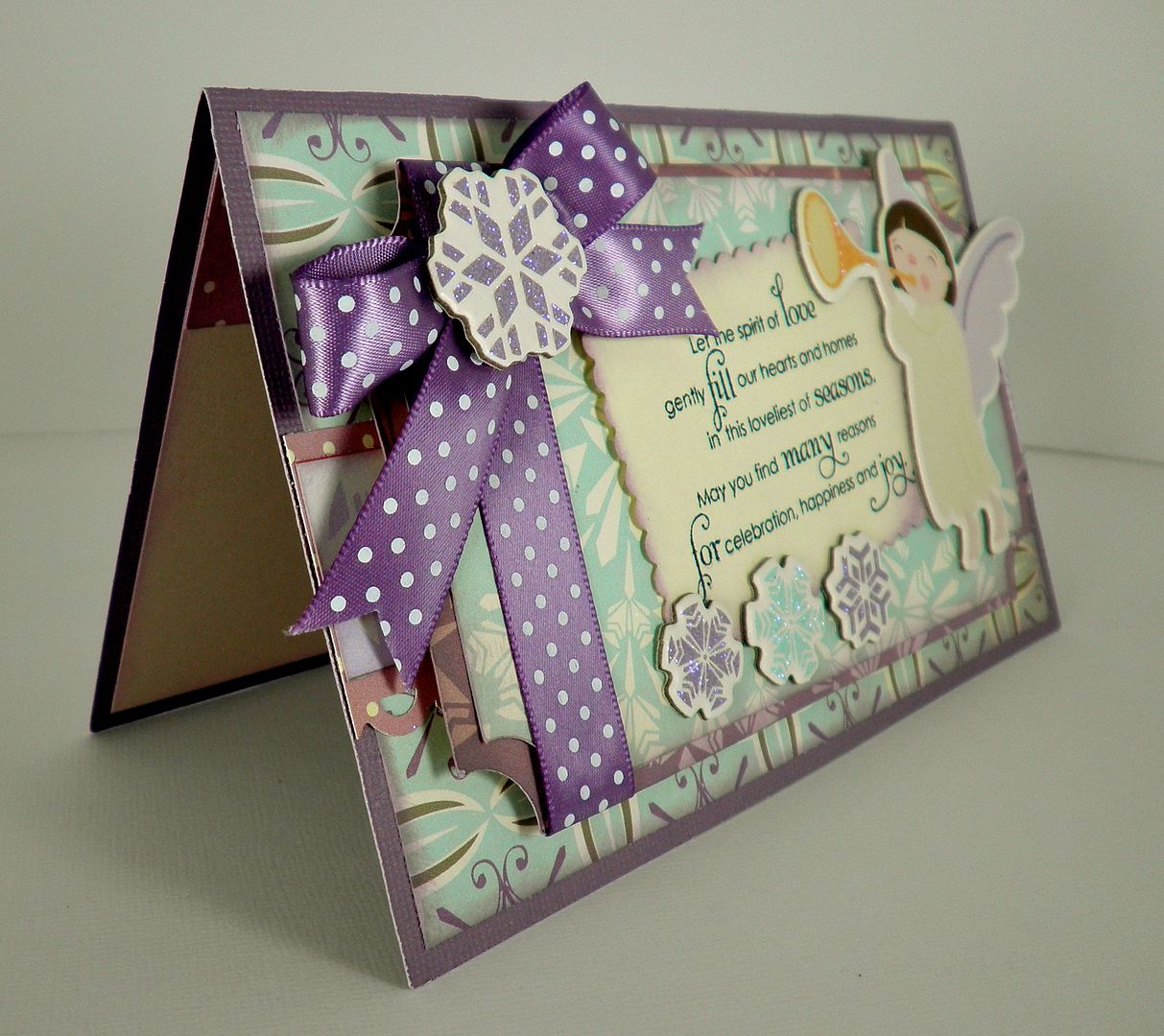 Inside I added some cream cardstock, a strip of coordinating paper and a stamped sentiment from Papertrey Ink. You can see all the pop dots used on the front of the card...
I extended the angel on the front so her wing peeks over the edge of the card. I did that because I knew I would have to make an envelope to fit the card due to its size, thus I could accommodate shapes extending beyond the boundaries of the card base. Below is my envelope with the front decorated.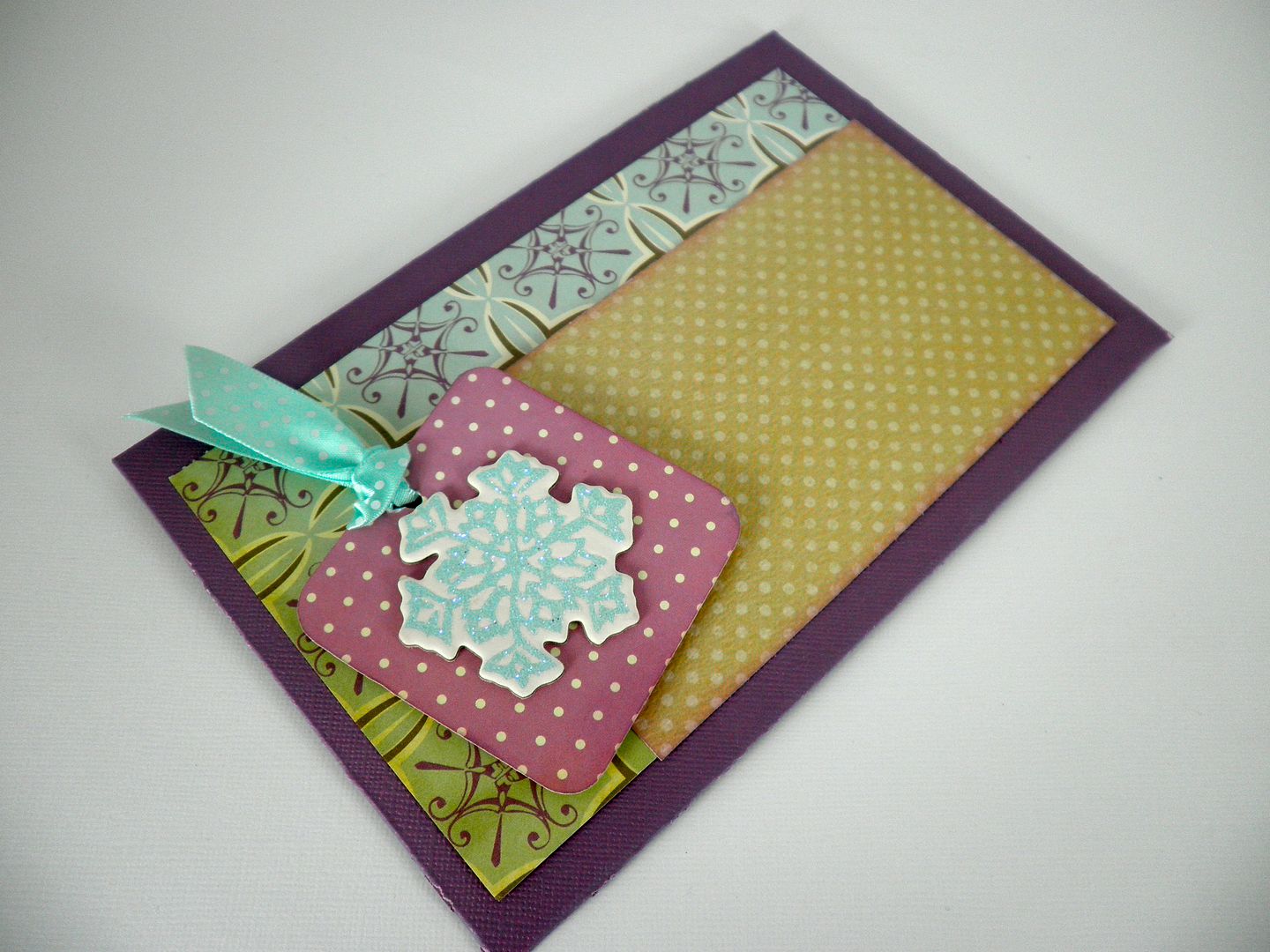 The tag shape is also from the
Cricut Birthday Bash cartridge
and I decorated it with another chipboard snowflake. I will be handing this card to another teacher at Christmastime so I can add dimensional items like this. I left the rest of the front blank and will add in the "to/from" later.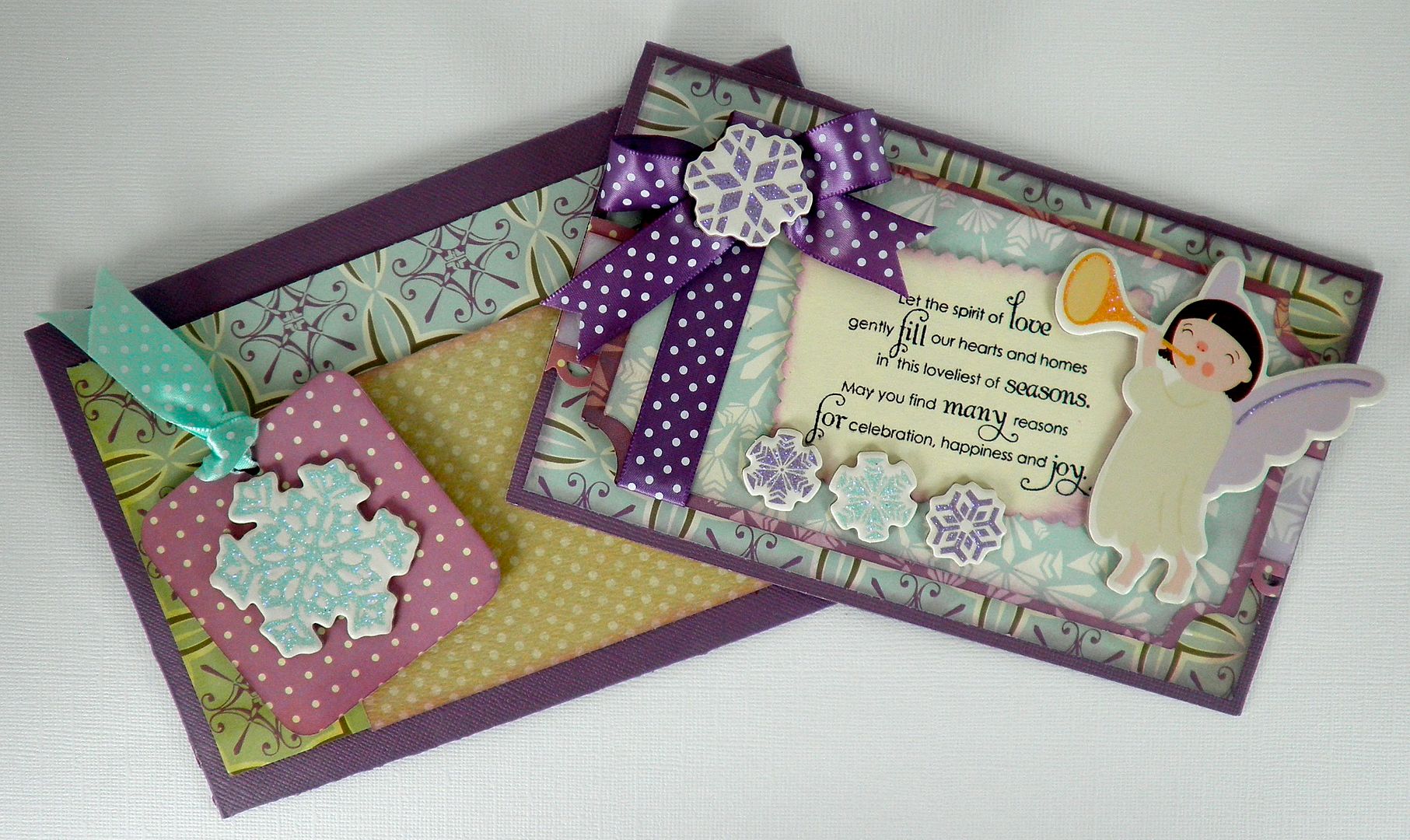 Now don't forget to check out our blog hop this week between our personal blogs and Capadia designs. We are showing off those awesome Creative Memories Cricut cartridges, so you are going to want to take a peek. Click on the links below to check it out!
Capadia Designs
Also if you are interested in purchasing these exclusive cartridges click on the links below.
Have a wonderful day and don't forget to check back tomorrow for Melanie's Christmas card!
This post may contain affiliate links.
Subscribe to Everyday Cricut
to learn more about ways to use the Cricut in your cardmaking and scrapbooking!