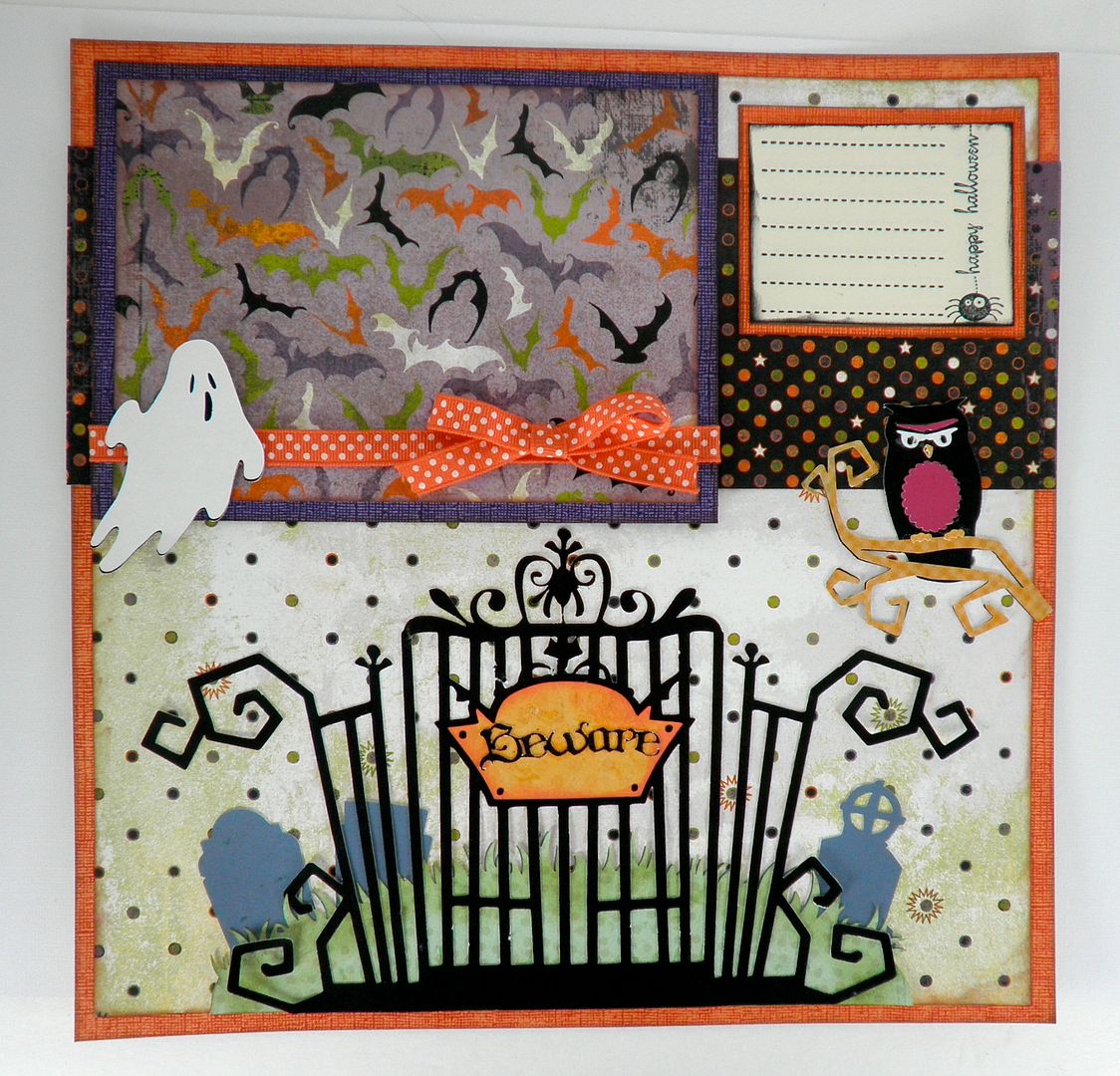 Hi, everyone! I hope you all had a wonderful Labor Day holiday and spent it doing something fun and relaxing!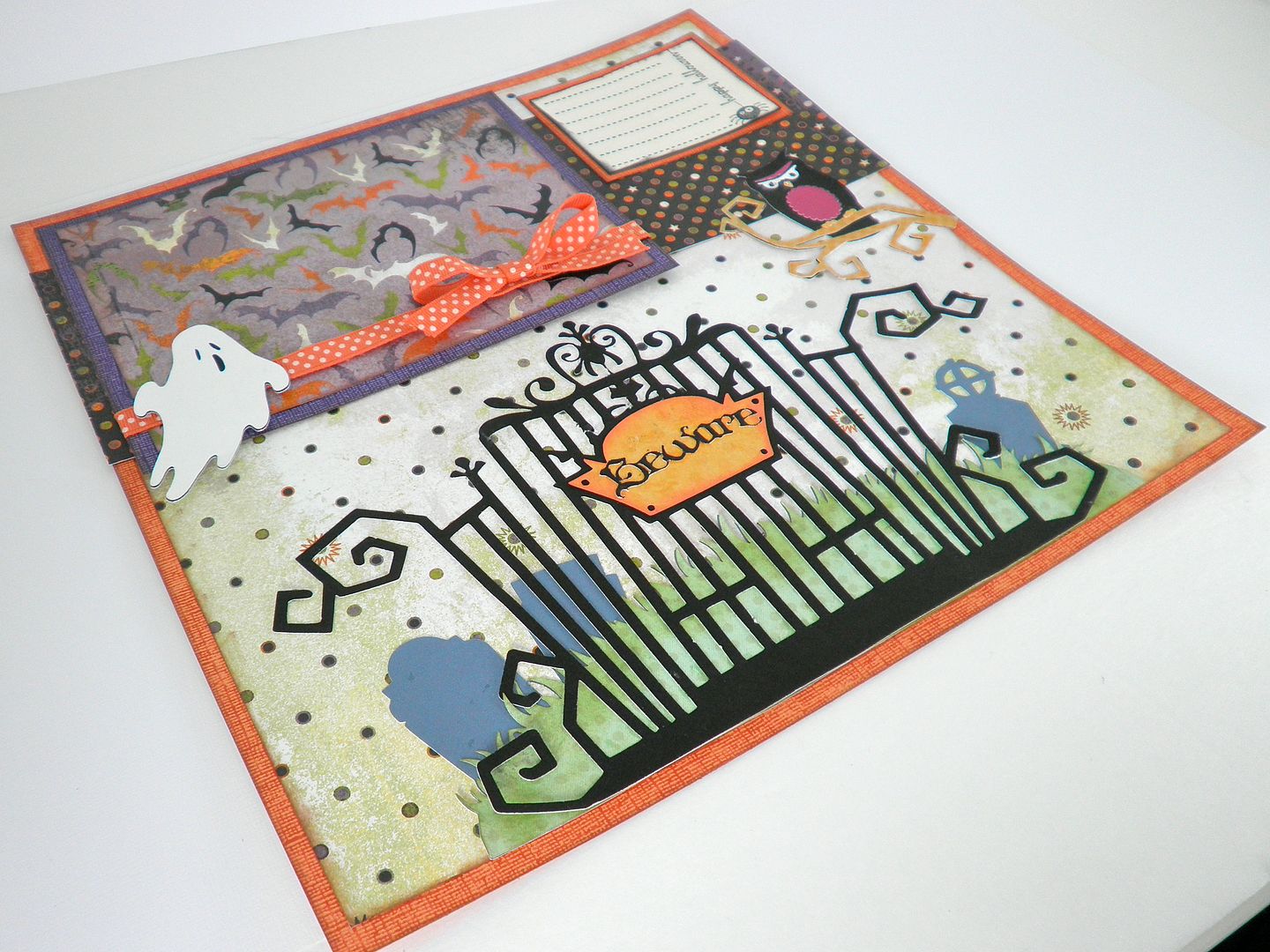 Today's Spooky layout was created using the
Cricut Happy Hauntings cartridge
and the
Cricut Imagine machine
! One thing about the Cricut Imagine machine is that it can just cut images with your regular patterned paper OR print and cut. When we made this layout, we did use both the print and cut features but it could easily have been just cut, similar to how the Expression or Baby Bug cuts.
For starters, the fence was first selected and then filled in with black as you can also select any regular colors (they have regular colors already programmed in). They have a palette of regular colors OR you can enter an RBY color code for any color you would want. There is also a color picker to help. See photo below.
The fence was cut at 6", the owl at 2" and the ghost at 2". Background paper by Basic Grey. Stamps by Close to My Heart and Michaels. Ribbon from stash.
Don't forget we are giving away a
Happy Hauntings Cricut cartridge
this week! Remember to leave comments and subscribe for a chance to win!
Here are the answers to the questions about the Cricut Imagine machine that we got yesterday:
1)
How much are the ink cartridges?
At this time, the black is $34.95 and the color is $39.95. Are the inks refillable? Not at this time.
2)
How many sheets will they print?
If you printed entire 11.5x11.5 sheets of full color (i.e. used a pattern over the full page to create what would look like a regular printed scrapbook page), we are hearing between 50-75 sheets. If you cut and print a bunch of different images, such as yesterday's project, that number is much higher at 120-150. I am sure it depends on how color intense the images are and their sizing. The machine comes with black and color ink cartridges full.
3)
Can you use the Imagine cartridges in the Expression/Baby Bug/Create?
No. They have a smaller housing so they cannot fit. However, the regular Cricut cartridges (full size, solutions, lite, cake) will fit in the Imagine and you can either "print and cut" using Imagine colors/regular ink colors or just "cut". You could also put regular scrapbook paper in the machine and just cut the images(same as the Expression/Baby Bug and Create).
4)
Can you mix and match the images from the Imagine cartridge and change the colors? Could I have cut a yellow bird (from yesterday's project) instead of orange?
YES! See photos below!
Regular Bird:
Colored with yellow pattern: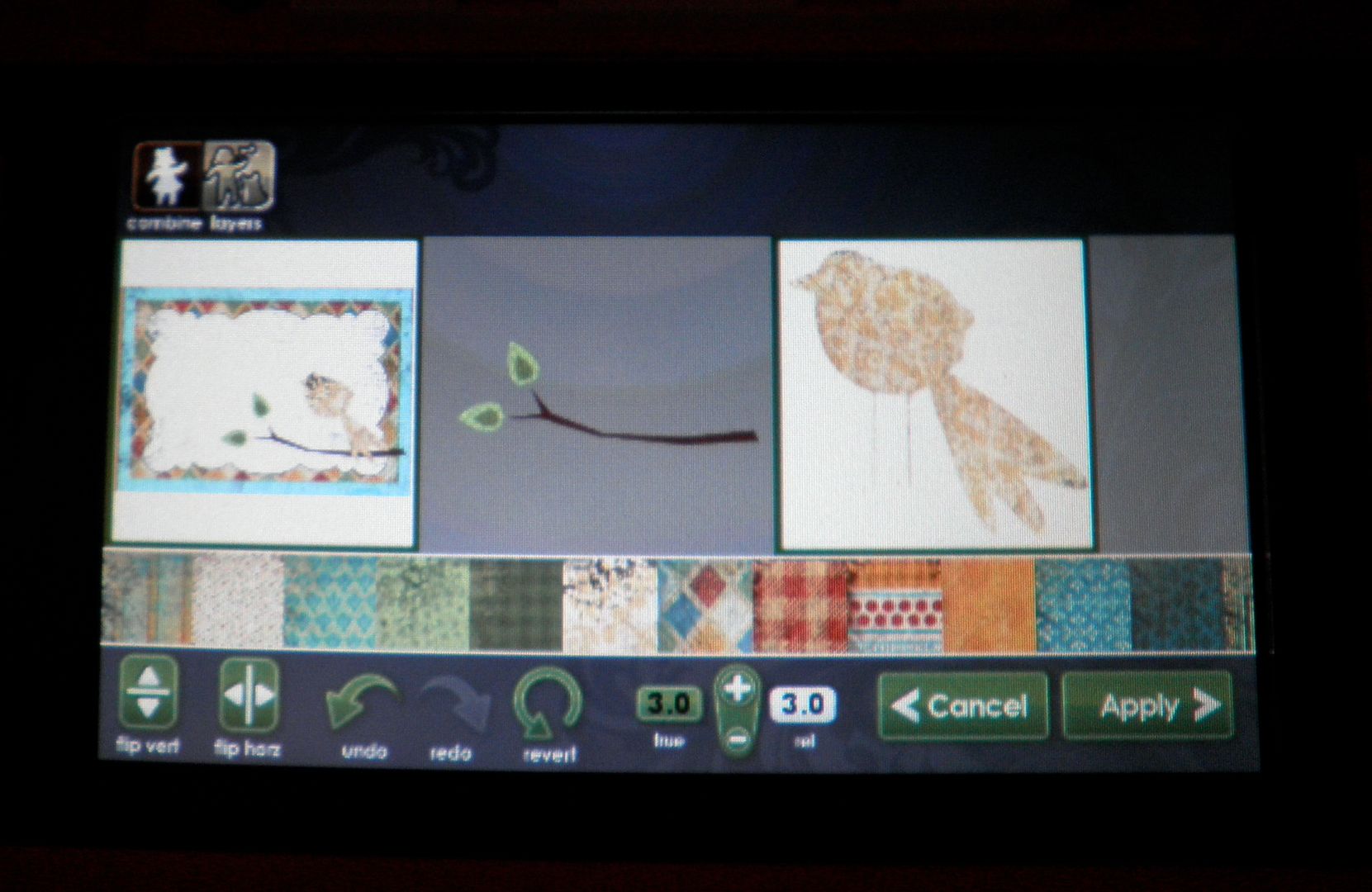 Colored with solid yellow: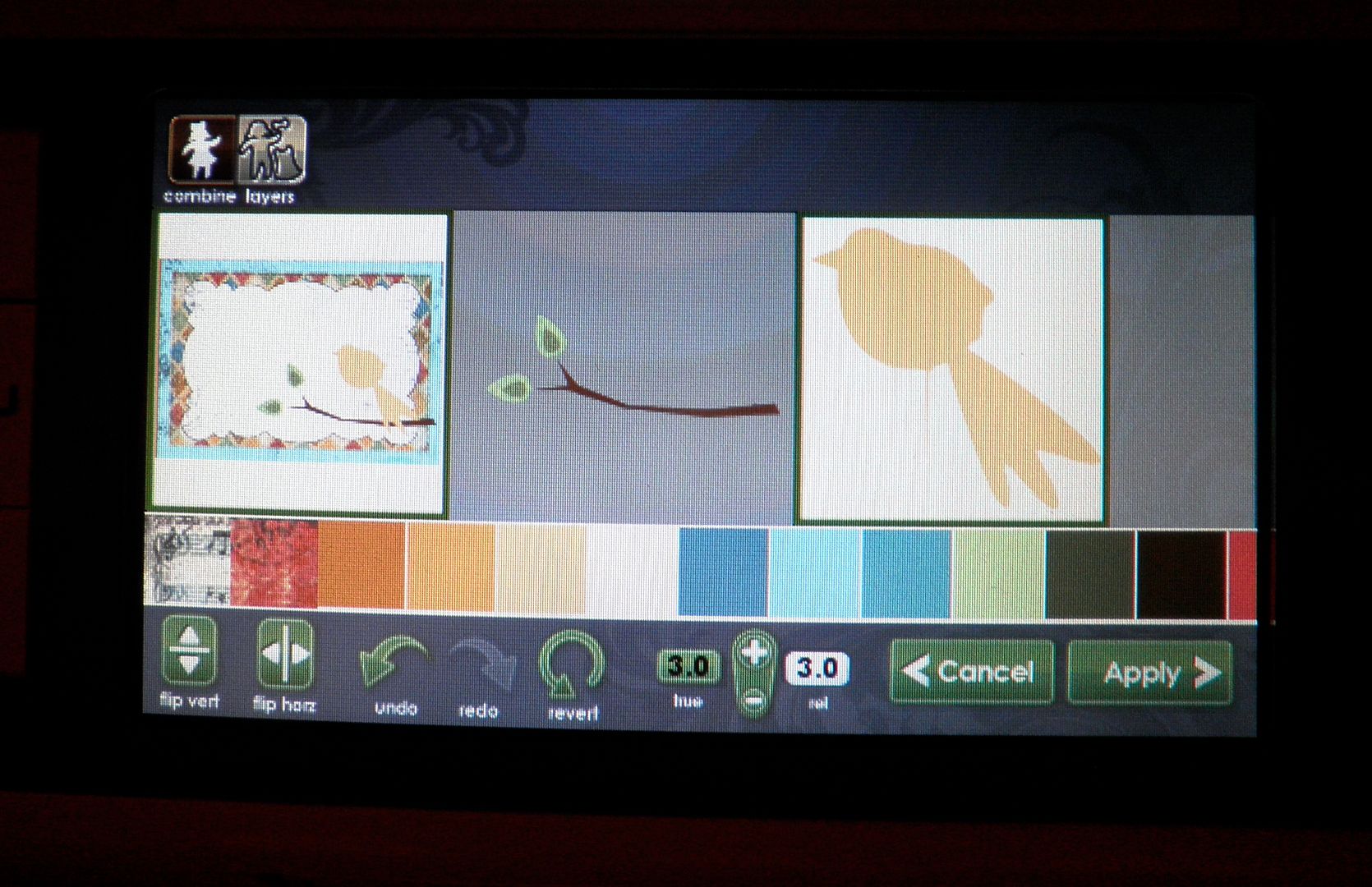 5)
Do you have to use a full sheet of paper or can you use smaller pieces?
Yes! You can use smaller pieces and there is a place to enter that info and then the machine resizes the preview and rearranges the pieces to fit them. You can also "load last". See photos below:
Using a 12x12 sheet: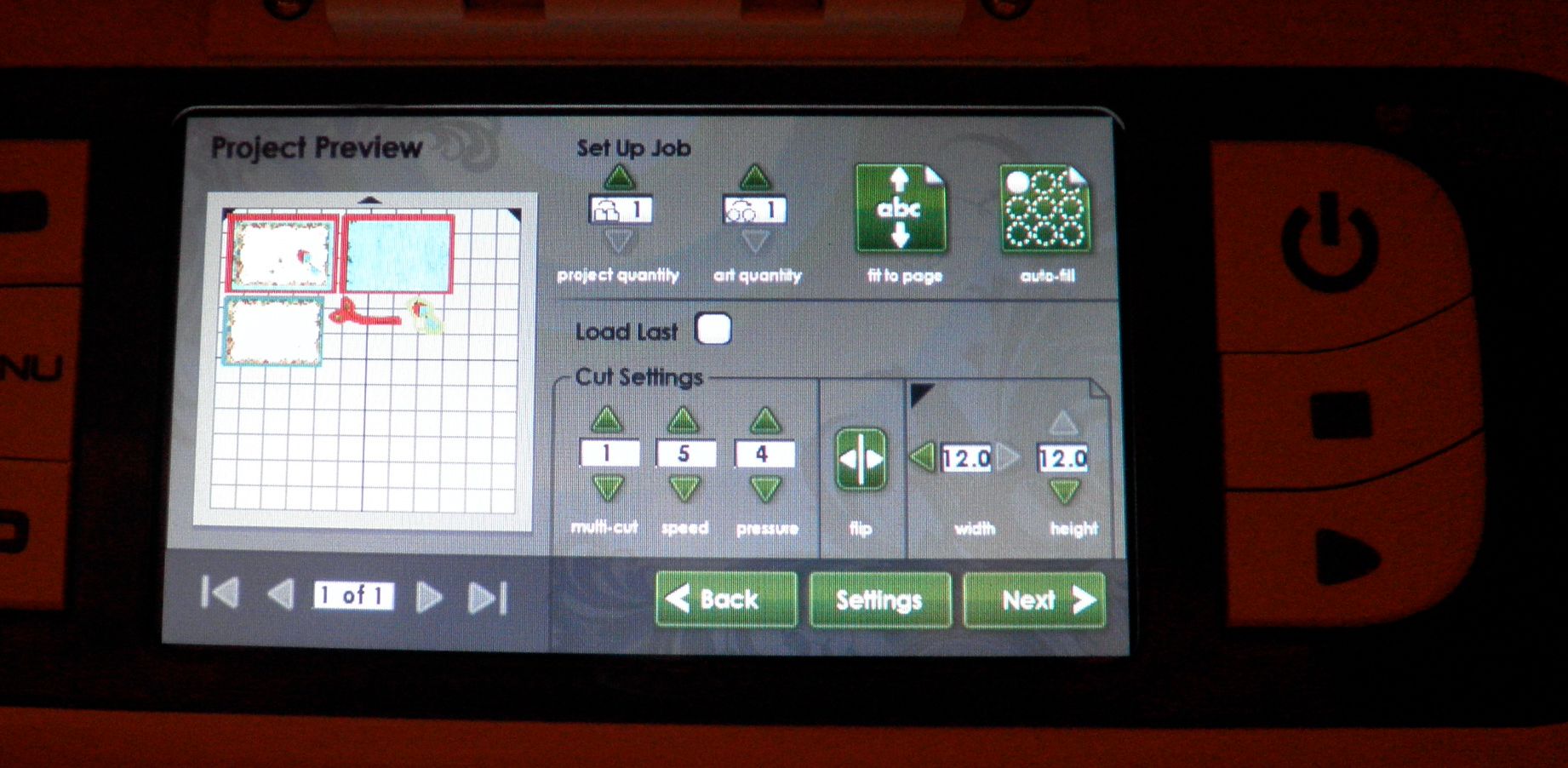 Using an 8.5 x 11 sheet (requires two sheets):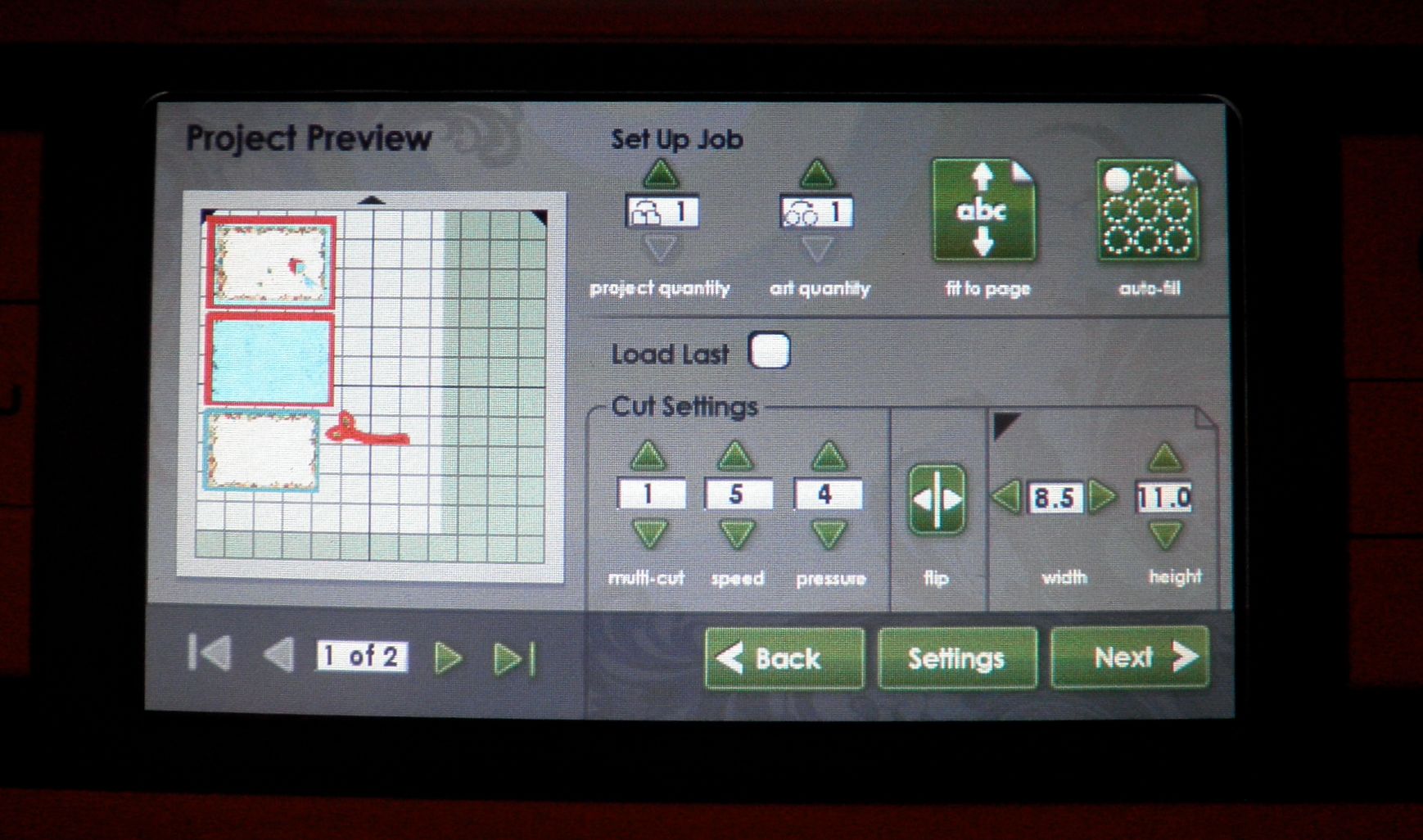 Page 2 of 8.5x11:
6)
What type of 12x12 white paper came with the machine?
We do not know the brand but it was good quality, smooth cardstock. We also tested the Georgia Pacific white cardstock from Walmart ($6 for 150 sheets of 8.5x11) and some Bazzill embossed cardstock and they all printed and cut fine.
7)
So how about if we have the patterned paper already. I am guessing we would have to use white only all the time. We would not be able to cut the bird out of patterned paper I already had?
NO! You can do it. You can select an outline only button and it would cut the outline of the bird. See photo below.

8)
What is the difference in the mats and can they be used in the regular Expression?
The main differences are that these mats have a new glue to them and that they have thick black edge markings around them to tell the machine where to stop printing. They will work in the Expression. We were told that these will be the new standard mats for all machines eventually.
Feel free to ask more questions in the comment section and we will address them (as best as we can) tomorrow!
Stay tuned for more videos and projects this week! Check out
THIS POST
to see yesterday's project and some of our video listings about the
Cricut Imagine machine
.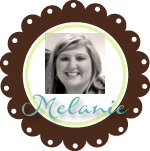 Subscribe to Everyday Cricut
to learn more about ways to use the Cricut in your cardmaking and scrapbooking!