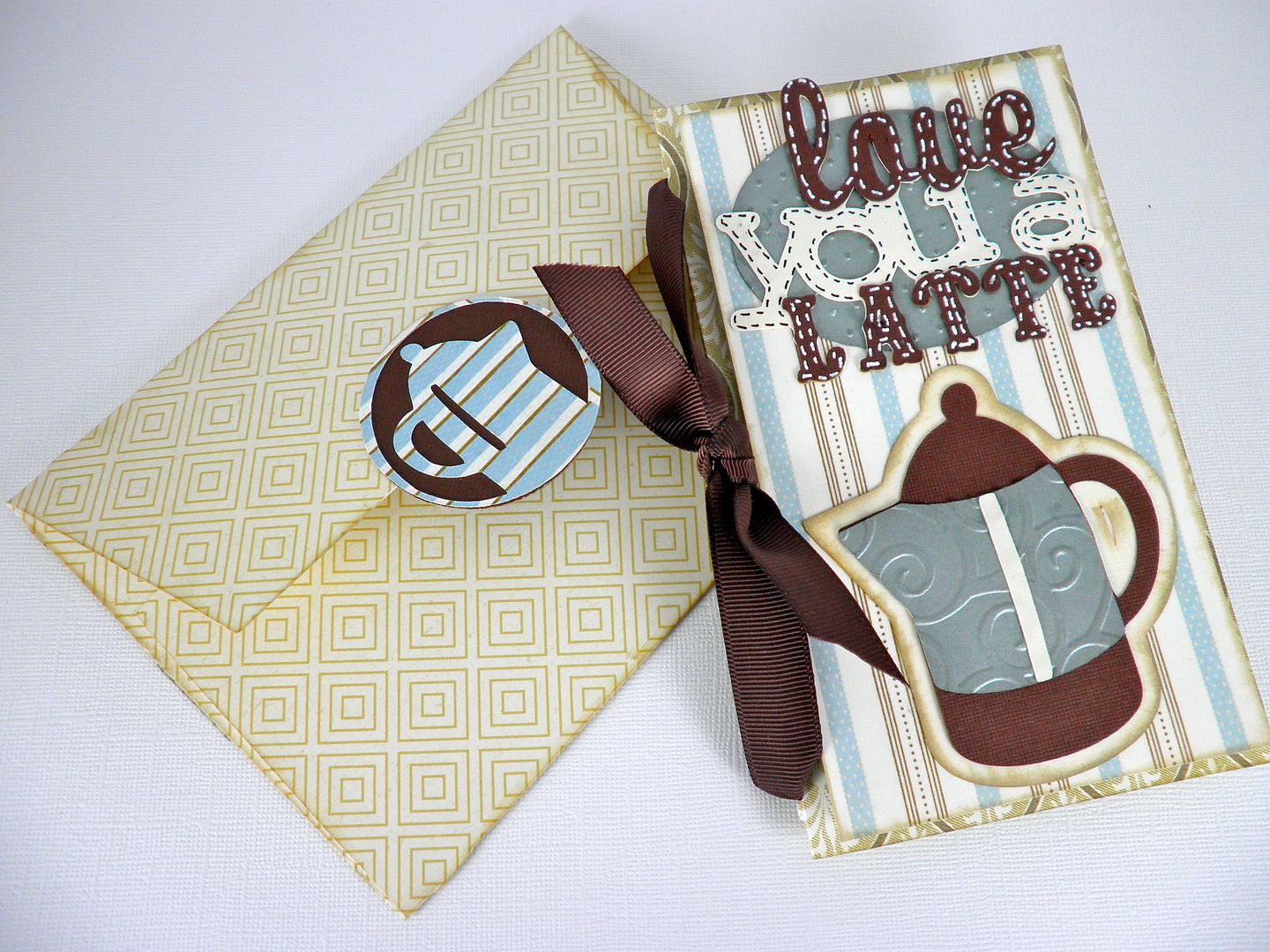 Hi, this is Joy with another card and envelope from
Just Because Cards cartridge
! Did I ever mention that this is my new favorite cartridge?? I think it is so fun and easy, once you get the hang of it!
But, first things first:
Today's giveaway is the Straight From the Nest cartridge!
Subscribe and leave a comment below for a chance to win! Remember we are giving away something different everyday and our GIGANTIC PRIZE will be on Saturday in honor of National Scrapbook Day! For more details, click
HERE!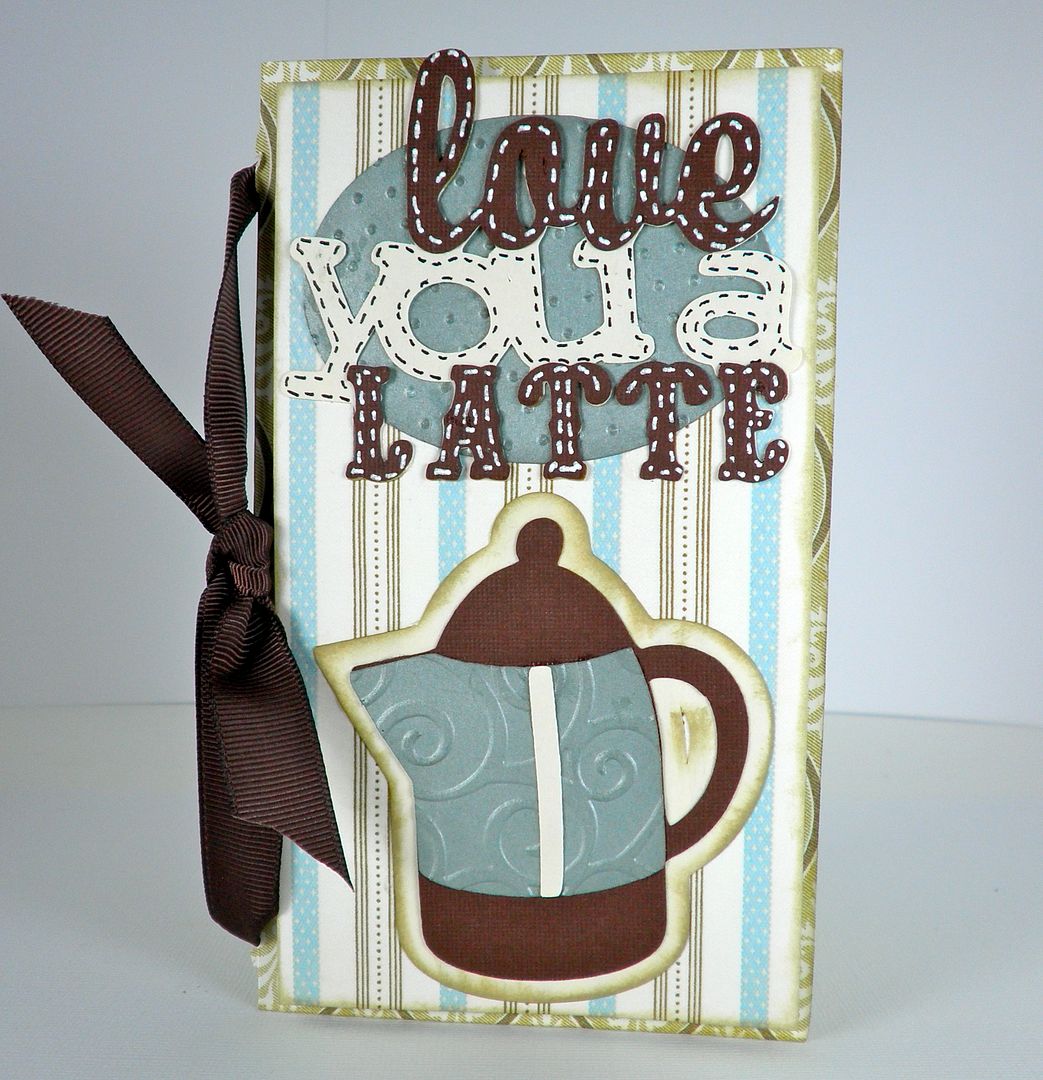 I wanted a romantic card for my husband that wasn't too feminine and thought this would be a perfect sentiment - not too mention that he loves coffee so he is sure to like this. All paper today is from the
Anna Griffin Calisto collection
- so gorgeous for a manly look! Ink is Chai from Papertrey Ink. Remember, inking is such a wonderful way to enhance your items. Ribbon is from Stampin Up! Coffee Pot was run through the Cuttlebug with the Divine Swirls folder.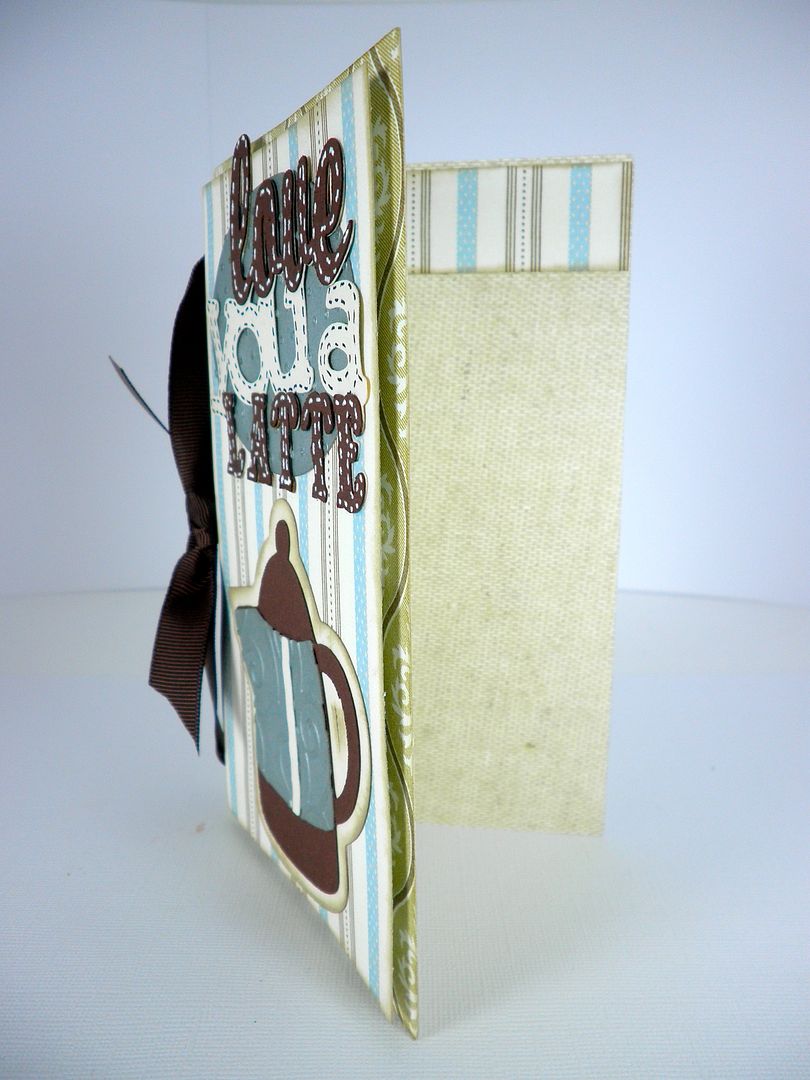 I cut today's "Love You A Latte" card (key 11) at 6-1/2". Remember, once you set that dial, you are good for the card, envelope, image and word art. I added a little finish piece to the inside.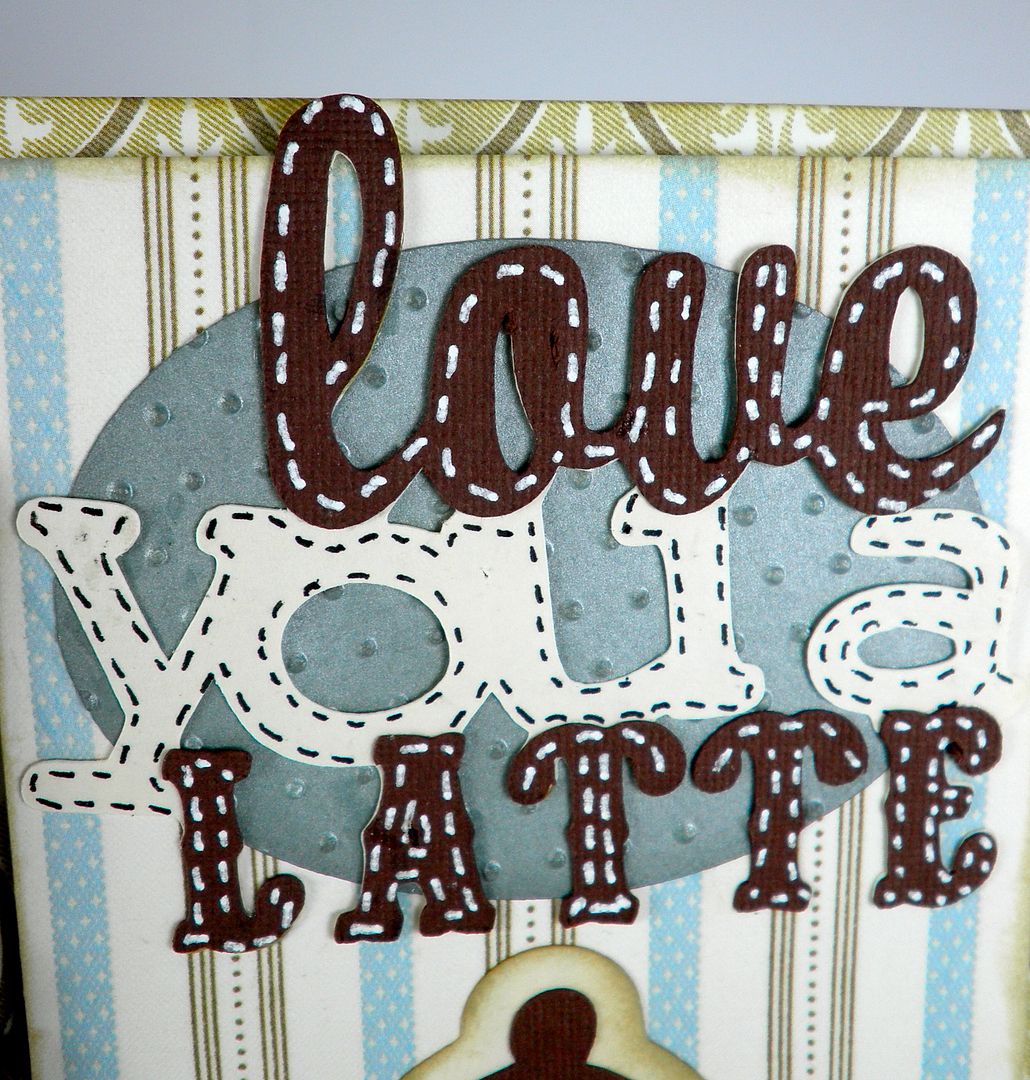 I added some stitching to the word art to help it stand out. I was not terribly consistent in how I stitched but it works (I think...). I also used the Swiss Dots Cuttlebug folder on the oval underneath.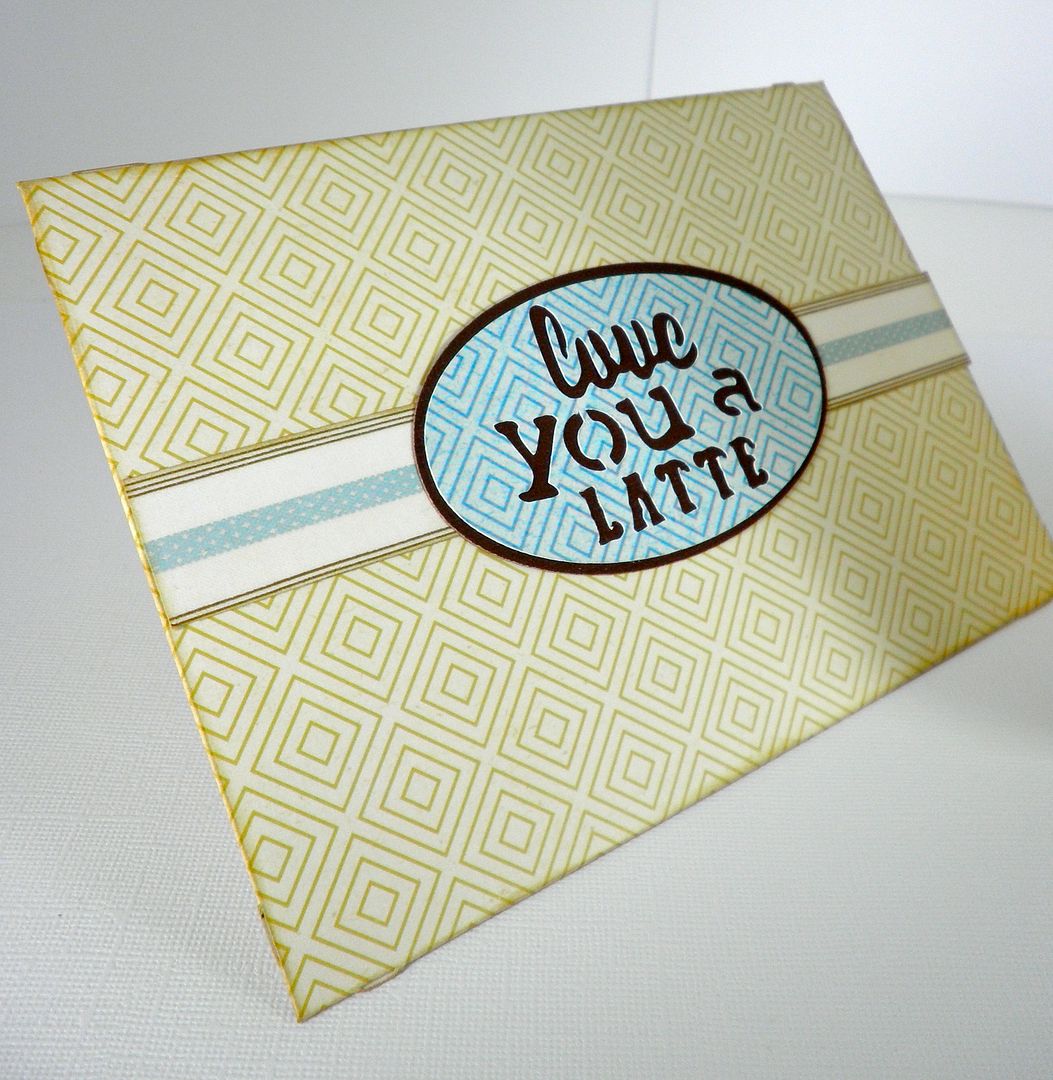 Envelope front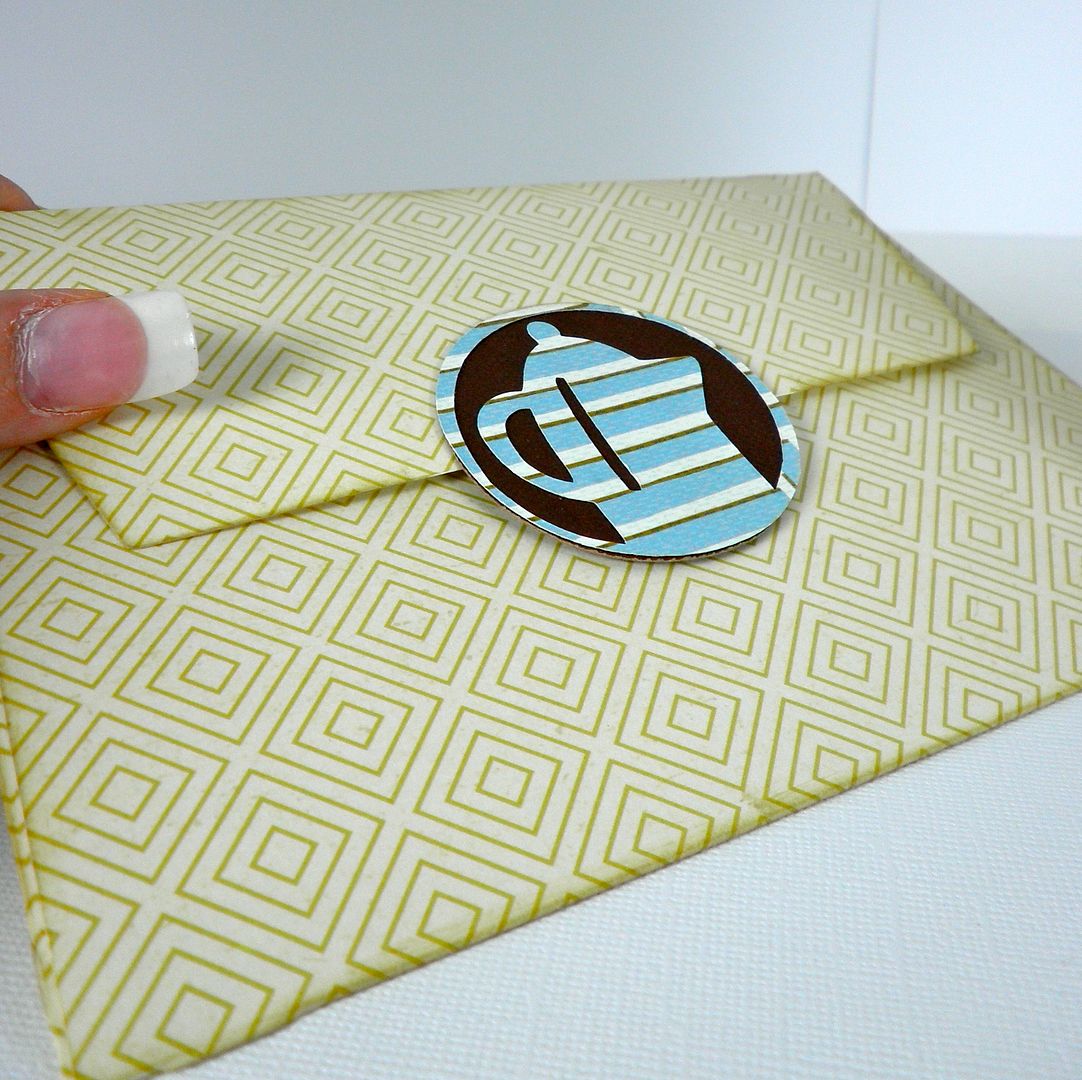 Envelope Back
Great thing about this Anna Griffin paper is that it is double sided which makes a nice inside to the envelope also. The envelope I used is key 43 (peach) because that is my favorite envelope. It fits nicely on a 12x12 sheet of paper and folds up nicely also. I cut it at 6-1/2" which actually allowed my plenty of room for my ribbon without any squishing.
In addition, I made a sticker and stencil to go on the envelope. They were both cut at 2". The sticker and stencil feature keys need to be set at normal sizes. So, for instance, if you use the Sticker or Stencil feature key and you have the dial at 6-1/2", it will cut an image that is 6-1/2" high - it does not re-adjust for the card like the other feature keys do. I like the coffee pot sticker on the envelope flap; it just adds so much.
Here is a quick video of tips and tricks for using the
Just Because Cards cartridge
- I hope this helps those of you who just got this cartridge. While I am showing a different card than what is here, the tricks are still applicable.
You won't want to miss Melanie's layout tomorrow - it is unbelievably gorgeous! Tata for now, my papercrafting sweeties!
Subscribe to Everyday Cricut
to learn more about ways to use the Cricut in your cardmaking and scrapbooking!