I hope everyone's Saturday is off to a great start! I am so excited to share with you all today. Joy and Melanie are amazing and I am ever so grateful to them for allowing me this wonderful opportunity to share. As you all know I am a Guy who scraps! Rare, but we do exist!
To have such a passion for a craft (I really think it is an art form) that is so focused on the female consumer is sometimes a challenge. Color, patterns, embellishments, and tools tend to be pink, heavy on the flowers and glitter, and well not very guy friendly. You all know this because I have seen so many posts on the Cricut MB about not enough guy cartridges, or what to do for your sons and husbands. I just say TELL ME ABOUT IT. I love a beautiful sheet of paper just as much as the next guy...I mean crafter but the challenge is still there. I am going to try to show you how you can use color and technique to make some of your projects more guy friendly.
All the pattern paper is from a
K&Company: Amy Butler pad
, solids are Cord'inations and I only used the
Cricut Songbird Cartridge
..........
I used Cricut Songbird because I think it gets under used because most people think it is a font cartridge--it is so much more! You will fall in love with the top notes alone, the font is easy to weld, and you will see there are tons of simple cuts. The only cuts I repeated were some of the top notes, used only one letter, and all the rest were special feature keys and their shifts.
BLOG CANDY ALERT
You could win either Cricut Songbird or the K&Company Paper used in these projects buy becoming a follower and posting a comment below. Winners will be announced in my Wednesday blog post. Click here to go to my blog!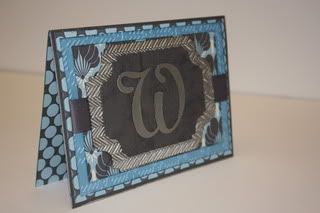 I had to do a monogram it is a font cartridge! This has five layers of paper, and I used two cuttlebug embossing folders. I added dark grey gross grain ribbon to the center as well. Size is A7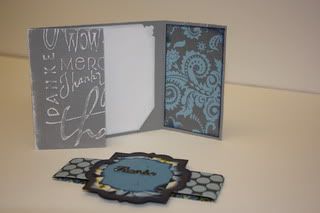 This is a belly band gate fold card. I embossed the gates and sanded them down for a distressed look. I used solid and pattern paper on the inside that matched the belly band and topped it off with a metal 'Thanks" brad. Size is 5*5
Here I used a 3/8" ribbon edge punch from Fiskers and some blue velvet ribbon. The ribbon and the darker colors help make the birdcage a bit more man friendly. Size is A2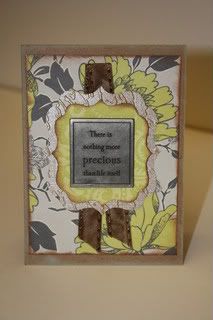 I used a heavy stitched edge brown ribbon, a metal accent from Joann's, the top note cut (which I love) and the script cuttlebug folder to emboss the shadow layer. I tend to be heavy handed on my inking which I have really grown to like! Size is A2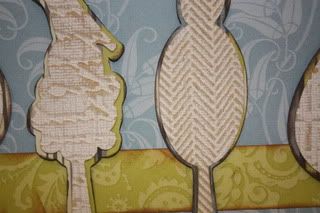 4 cuttlebug folders were used on this card, one for each tree on Cord'inations WhiteOut and a little sanding really go a long way here. I used the same brown ribbon and just tied it in a knot. The inside uses word art from Cricut Songbird that says "Birds of a feather." Size fits standard business envelopes.
Thank you all for stopping in today! Don't forget to leave your comments as there is blog candy! For a second chance to win and see the prizes come on over to my blog,
Scrapguy
, and see more projects in this series. If you become a member and leave a comment there you have double the chance to win. There is also a downloadable cut file for the
gypsy
, so everyone wins! Have a great weekend
Bryan
P.S. Make sure you
click here
for you chance to win the Cricut Expression that Joy and Melanie are giving away here at Everyday Cricut!
Subscribe to Everyday Cricut
to learn more about ways to use the Cricut in your cardmaking and scrapbooking!