This is Joy and are you guys in for a treat! We have some beautiful crafty gift ideas for you today! Barb and Shirley have made some gorgeous projects! You're going to want to make all of these!
I have a really fun crafty gift for you to make - personalized alcohol ink ornaments! It's so easy and the results are just spectacular!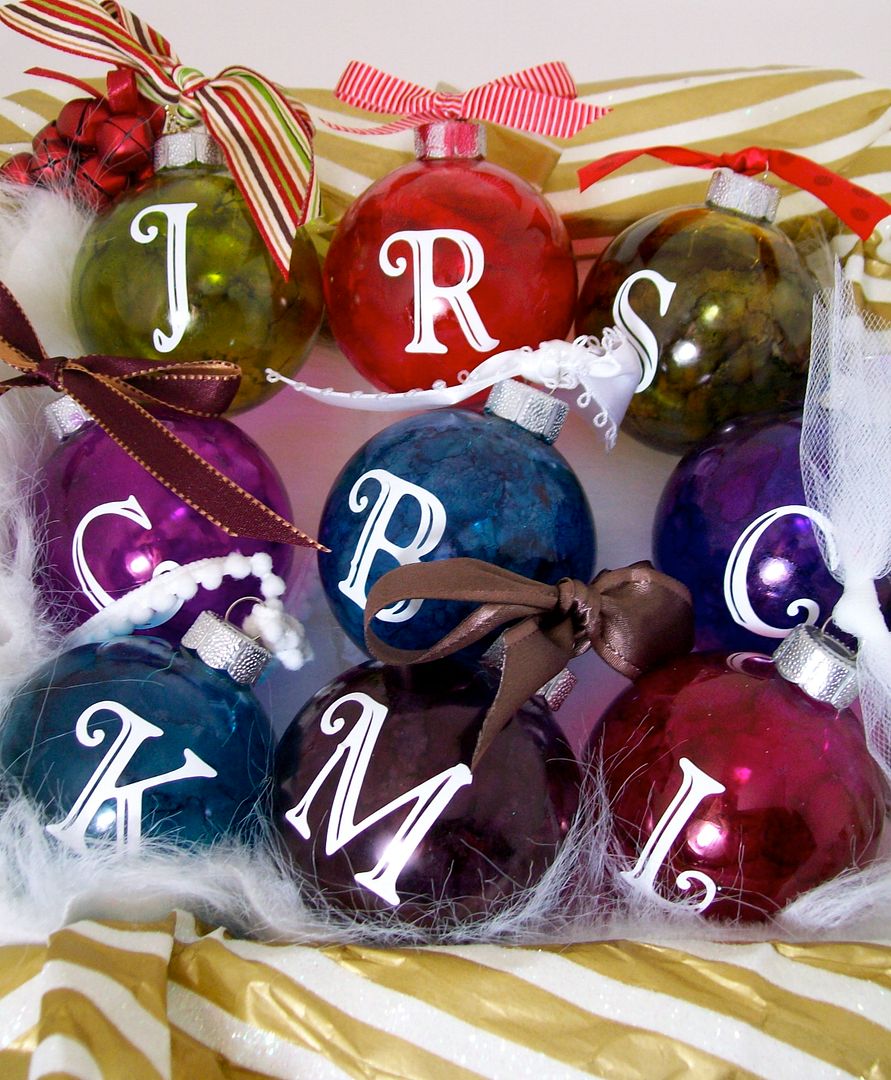 I made all these ornaments with my daughter in no time and we had a blast! She's 10 and it's definitely a project you can do with your kids. I used Tim Holtz's alcohol inks, applicator, clear glass balls from the craft store, vinyl, transfer tape and the
Winter Woodland Cartridge
.
Now, not to scare you, but there are a few steps. They are easy and fast and I've included step by step photos so there is no way to mess this up. Not only that, there is a secret to it that means you can always undo and start again! How great is that!
EDIT: Here are the colors I used: For the green balls, lettuce, pesto and latte; red ball was red pepper and latte but you could just do red pepper; the dark brown was eggplant and latte; teal blue one was stream and stonewashed; other blue one was stonewashed and denim; purple one was wild plum and cranberry; pink was cranberry alone.
DON'T feel like you need this many to do the project! Repeated applications of just one color produce a GORGEOUS ball! To see all the colors, click
HERE!
The sets of three are available at Michaels and Hobby Lobby.
Let's get started:
First thing: Wear gloves. You'll see why in the photos...LOL!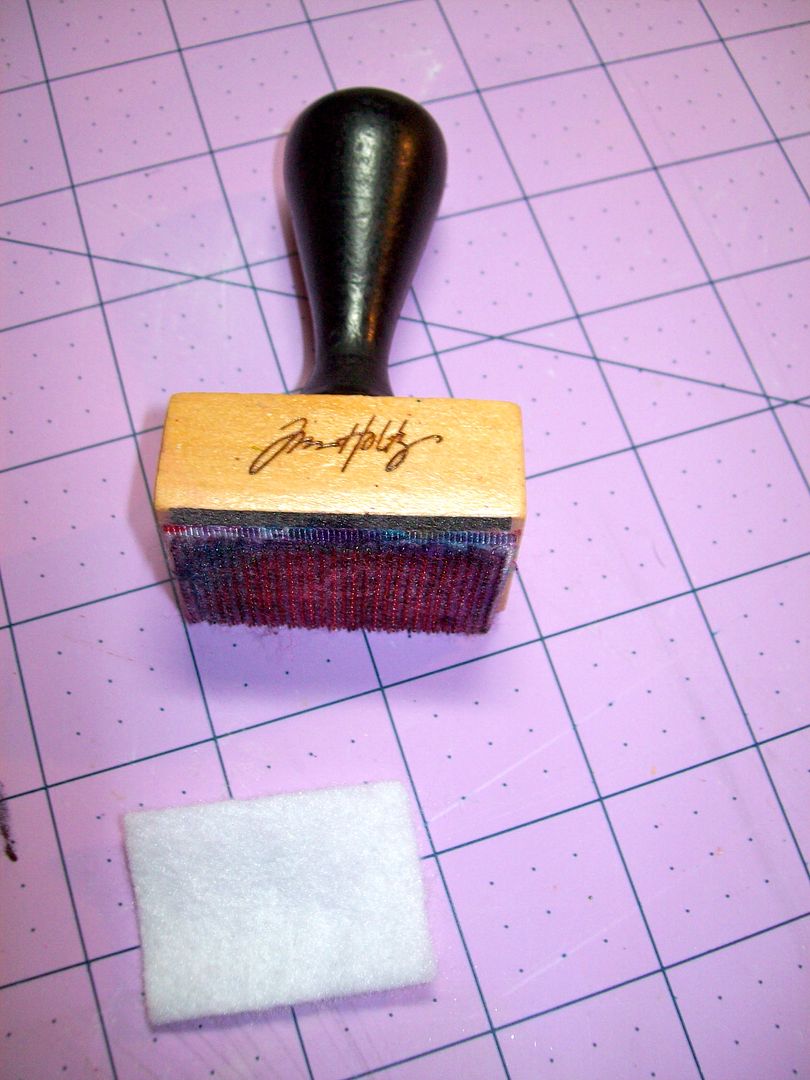 This project starts with Tim Holtz's alcohol ink applicator and felt squares.
As shown above, stick felt to applicator.
Using Tim Holtz's alcohol inks, pick two or three colors to use. Start with the first color. Here I used the "pesto" color.
BE SURE AND PRESS TIP OF INK INTO FELT BEFORE SQUEEZING!
Bad things happen if you don't do this! Alcohol ink stains and dries very quickly and likes to shoot out of the top of these tips really quickly so
ALWAYS PRESS TIP INTO FELT BEFORE SQUEEZING!
Put about 4 different spots of alcohol ink around the felt pad with color #1.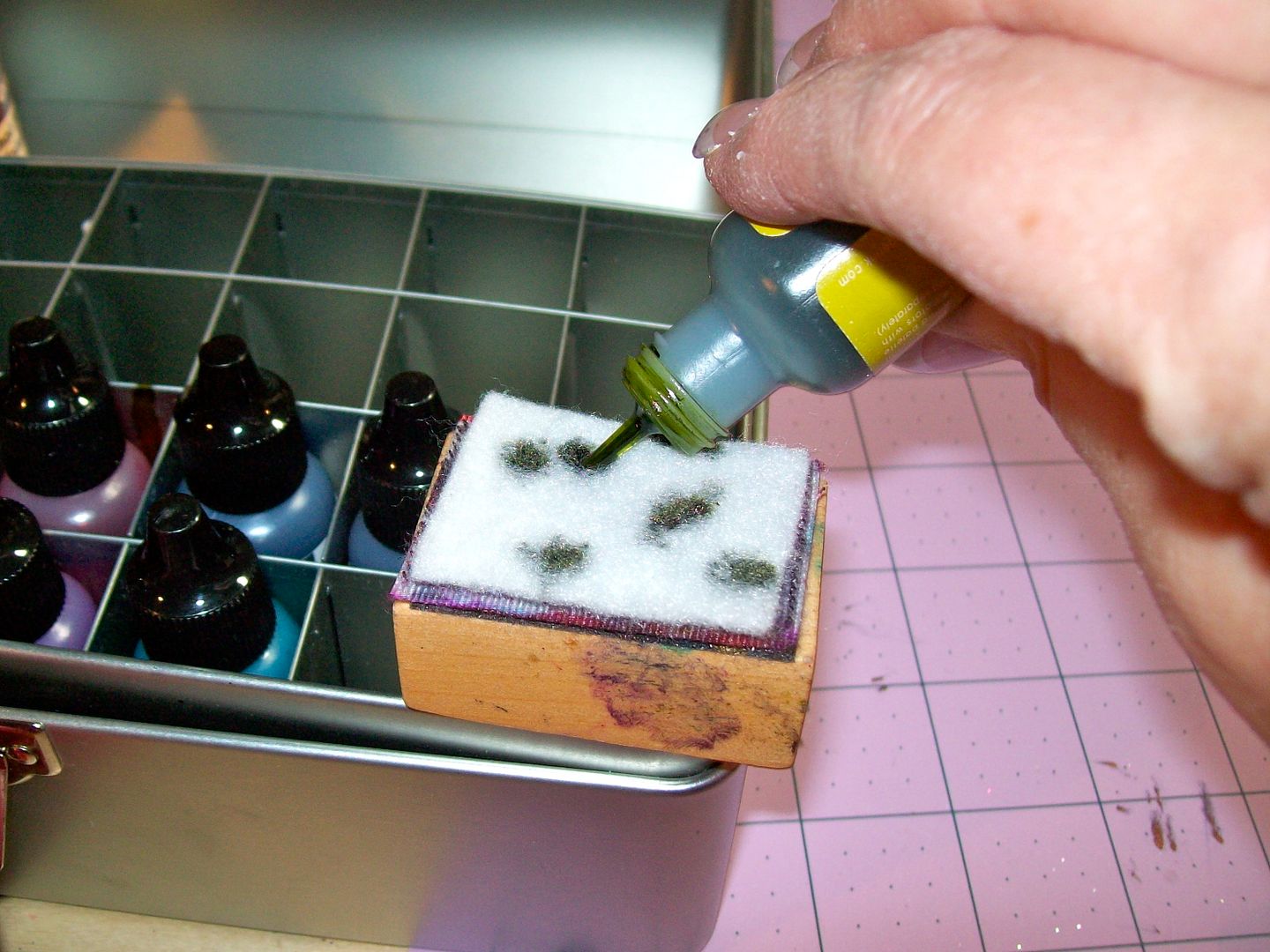 Then switch to the second color - I used "lettuce". Vary where you place these around the pad.
Add third color ("latte" was used).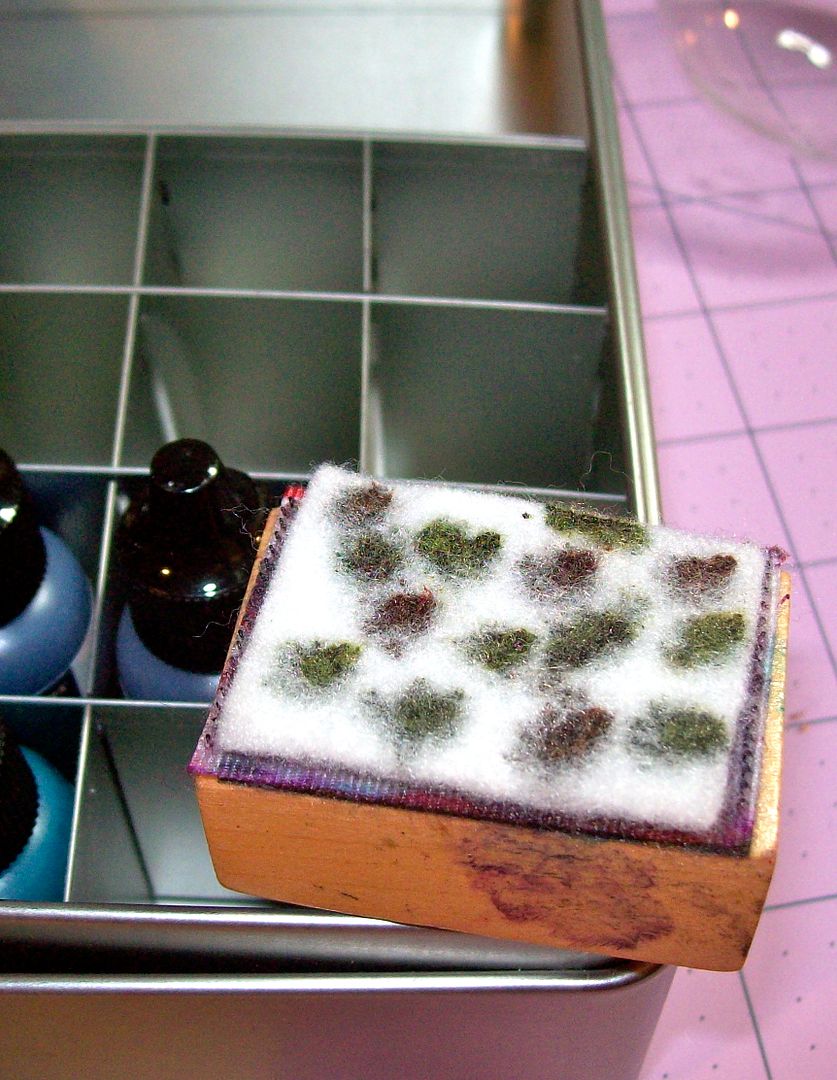 Felt pad will look like photo above.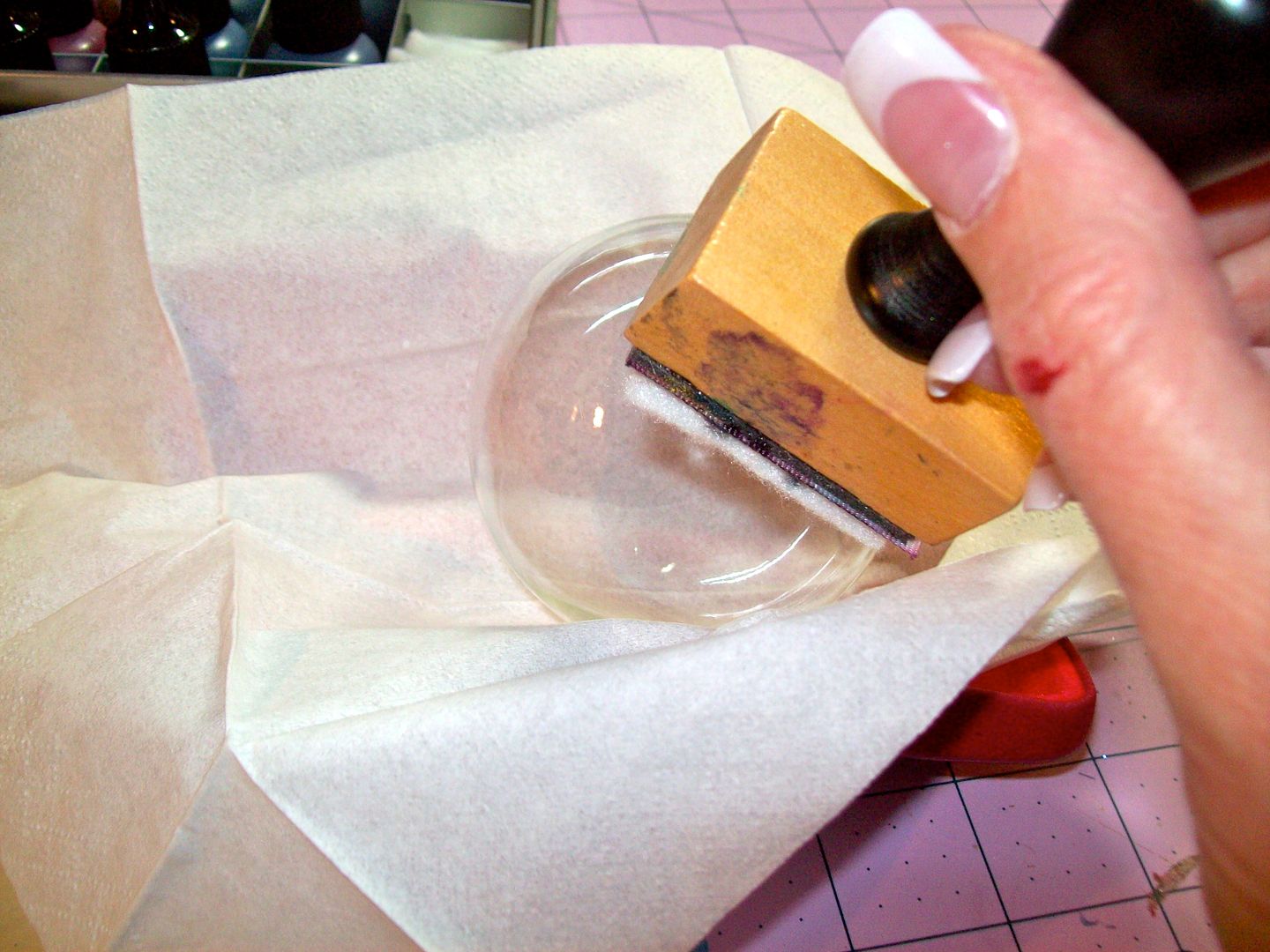 Clean ornament with alcohol or glass cleaner. Now, holding ornament, or propping it against something, using the applicator, start gently tapping against the ornament. Move all around the ornament, twisting the applicator as you go to make sure the colors vary where they land.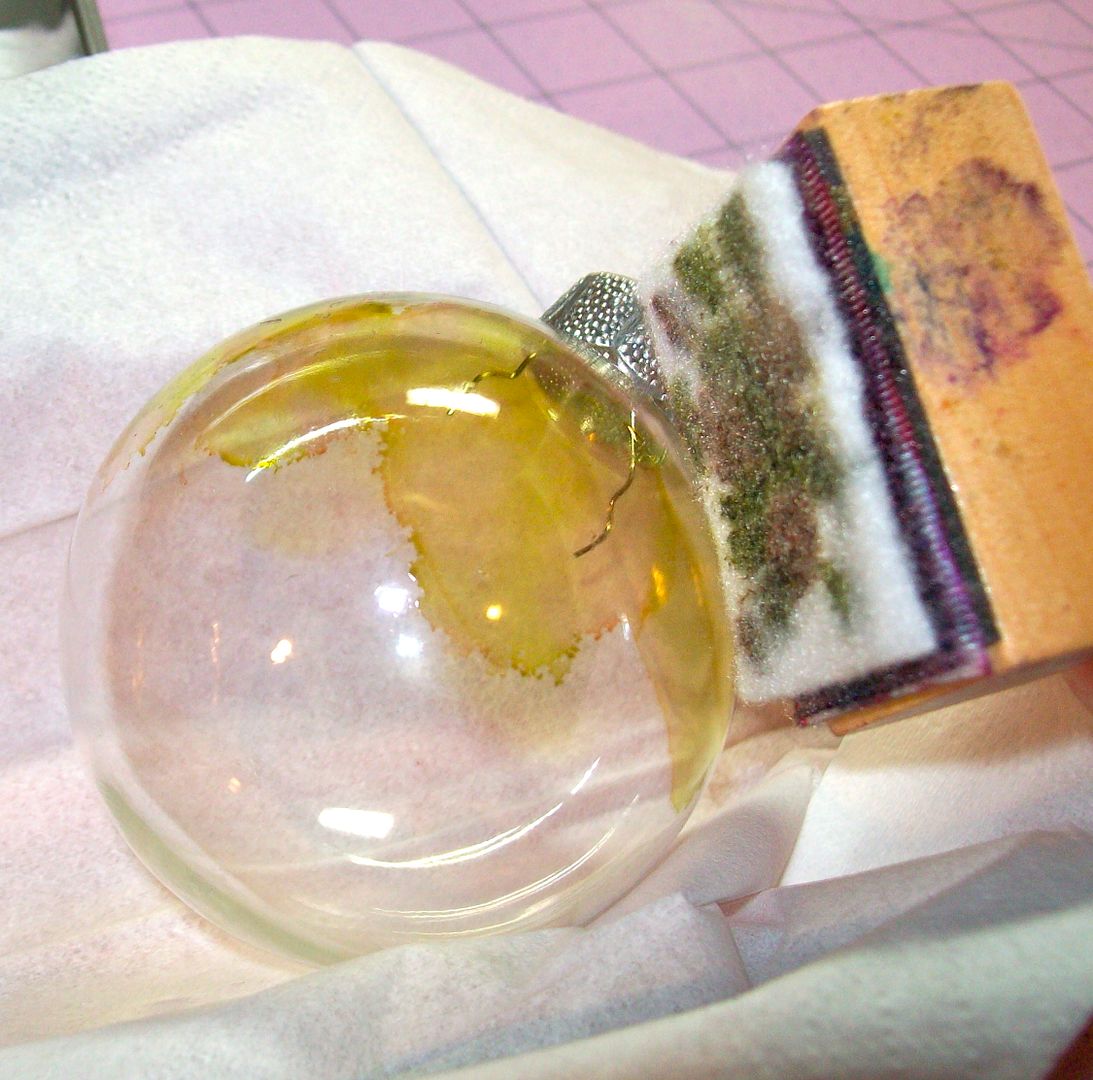 If you want more color, keep tapping away with the applicator.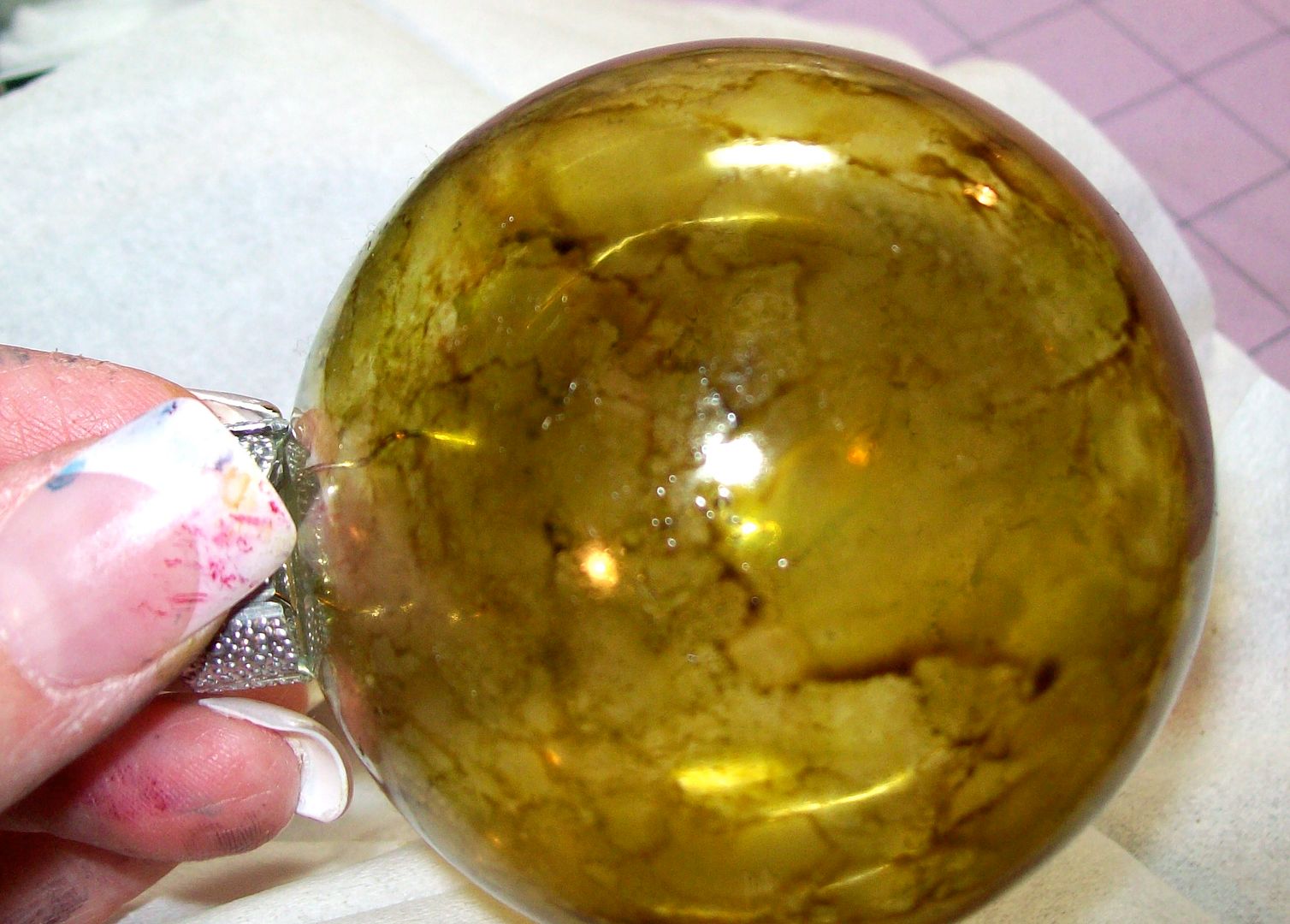 Above is the final ornament before we apply the vinyl initial. If you want things darker, wait a minute or two until it dries and add more color by tapping with the applicator. You may want to add more ink to the felt square as you go.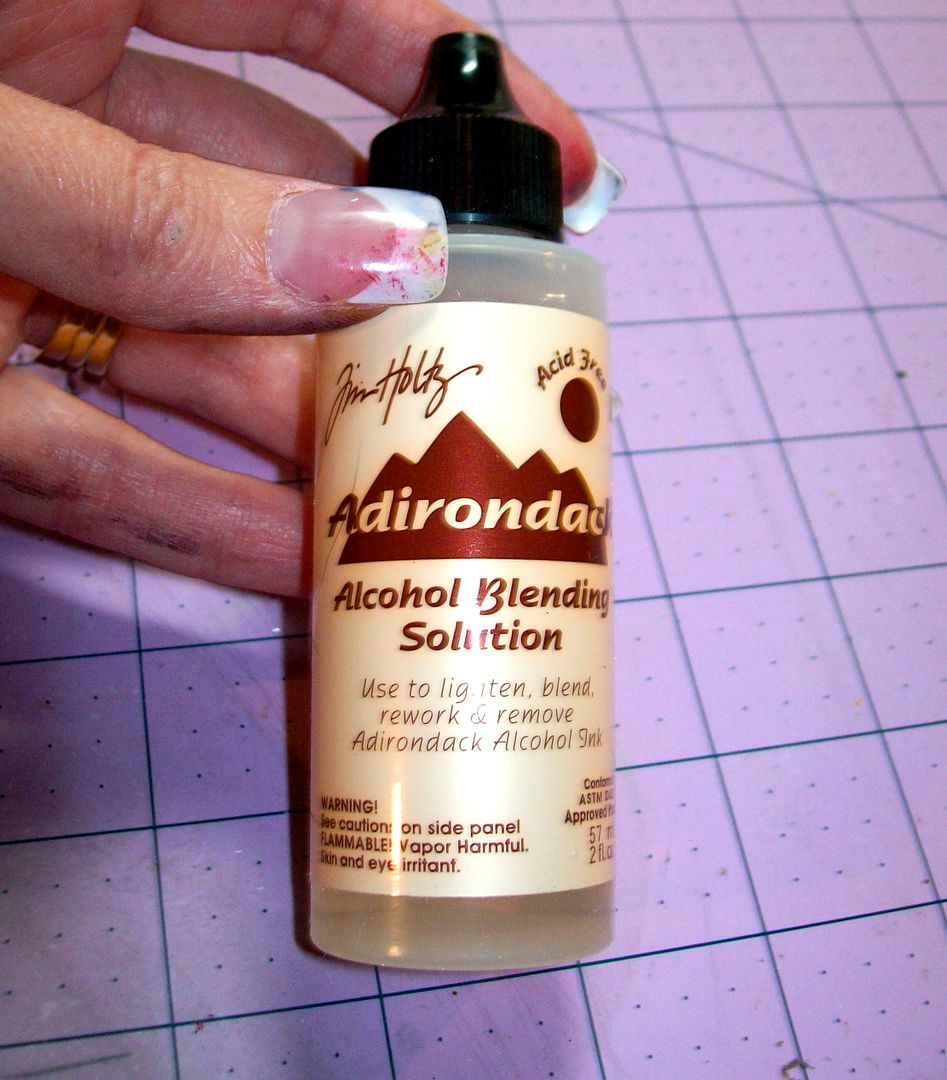 If you don't like how some of it turned out, use the product above to remove it all and start again! WOO HOO! That's my favorite thing about this product. Another great thing about alcohol inks is that you can use this same technique on acrylic (think mini-album covers) OR transparencies OR glossy cardstock. Great fun!
Now, for the vinyl initial section:
1) Cut vinyl initials using the Winter Woodland Font out of white vinyl at 1.5" using the blade at 2, pressure and speed at 3. Take out the little skinny inner pieces with a tack before applying transfer tape. You will then use transfer tape to lift the vinyl from the mat and then lay it onto the ornament.
2) For a review on how to cut vinyl and use transfer tape, check out the video below. If you can't see it, click
HERE!
3) Here is the vinyl initial on the transfer tape. Remember how I said to wear gloves? This is what happens if you don't...LOL!
4) Here is a shot as I apply initial to ornament (whoops! I switched ornaments on you...sorry!).
5) Here is the ornament completed: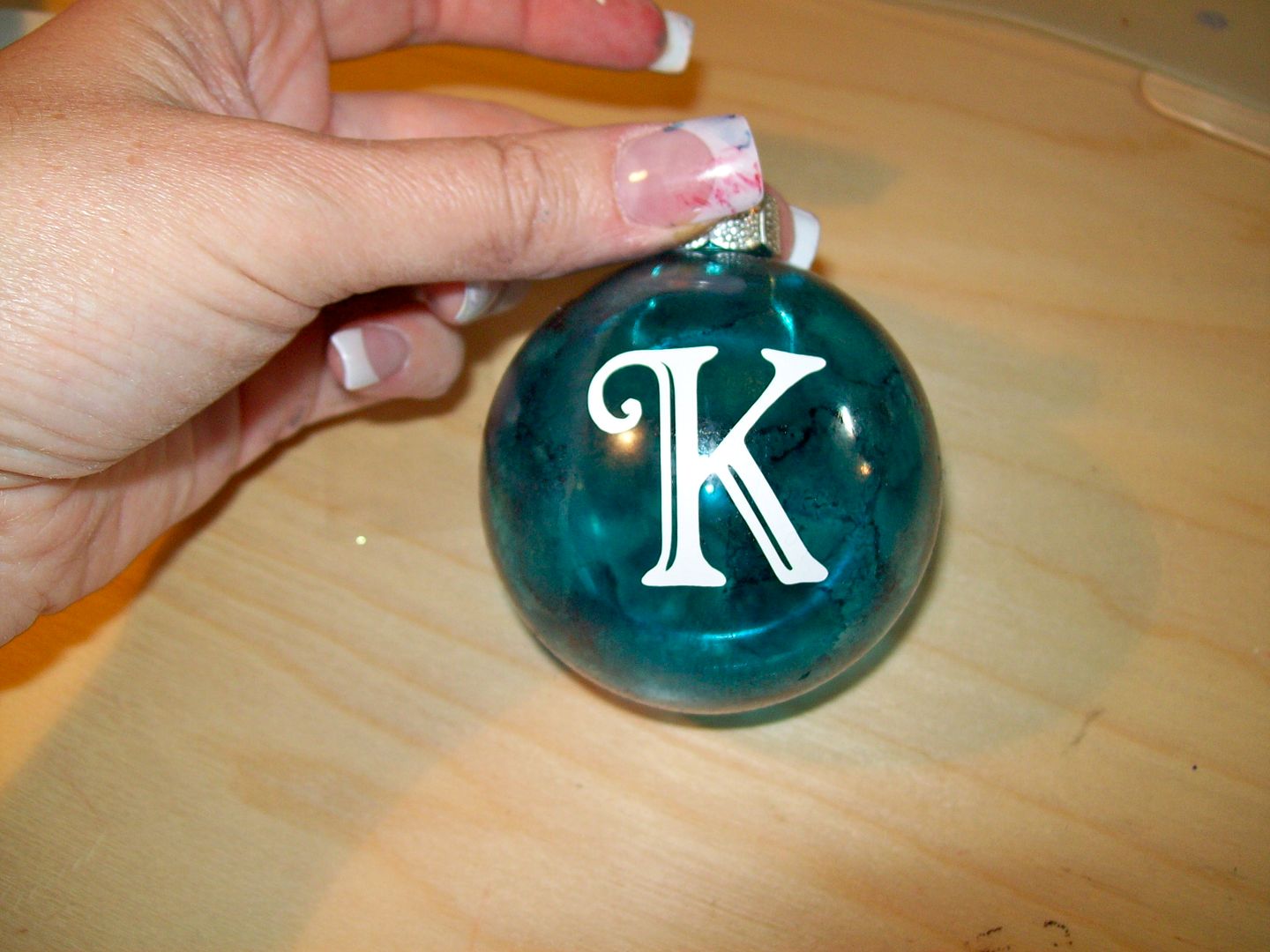 Finally, here are some photos of all the ornaments we made: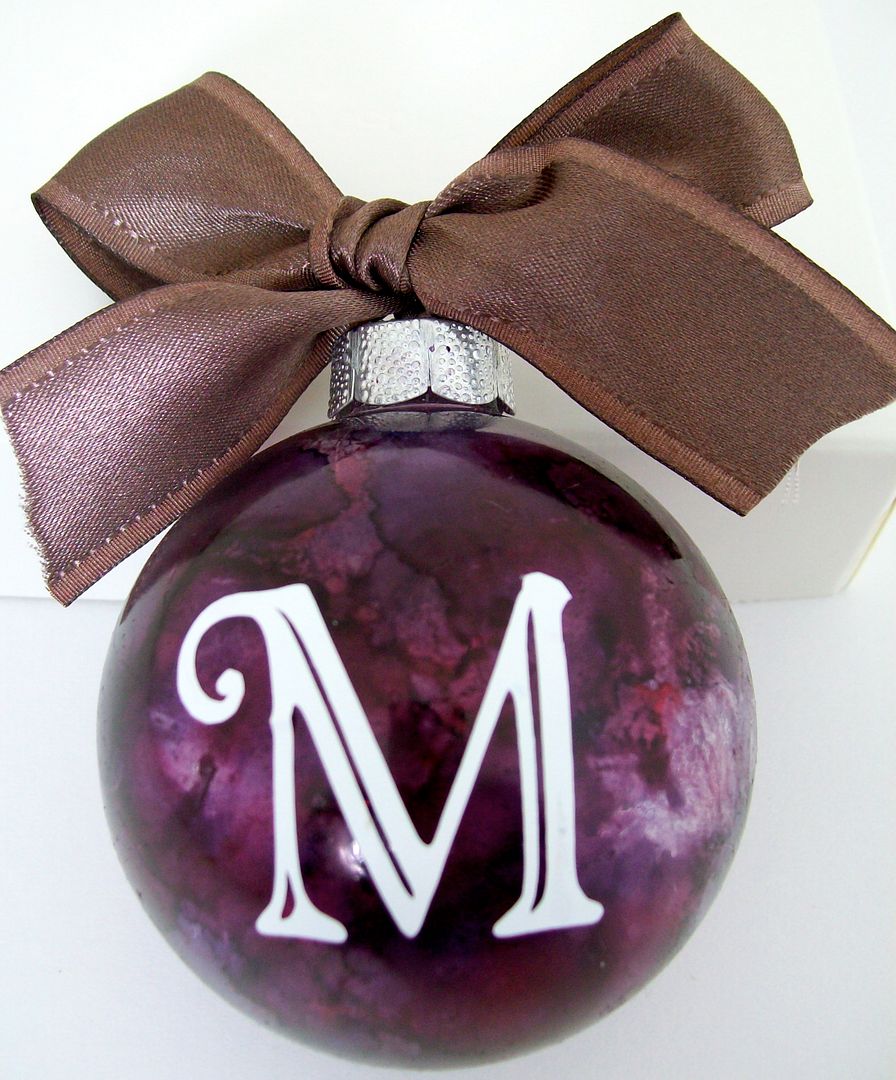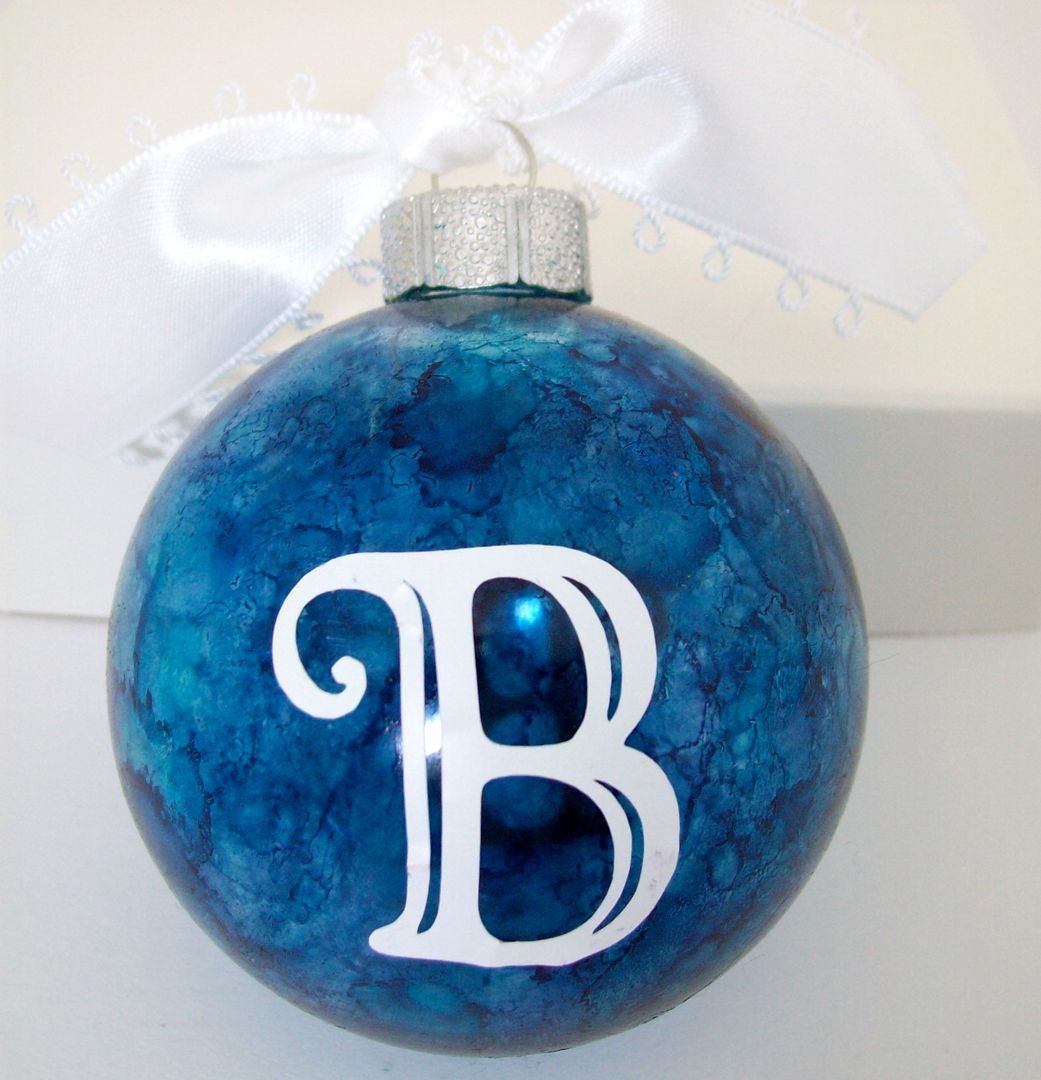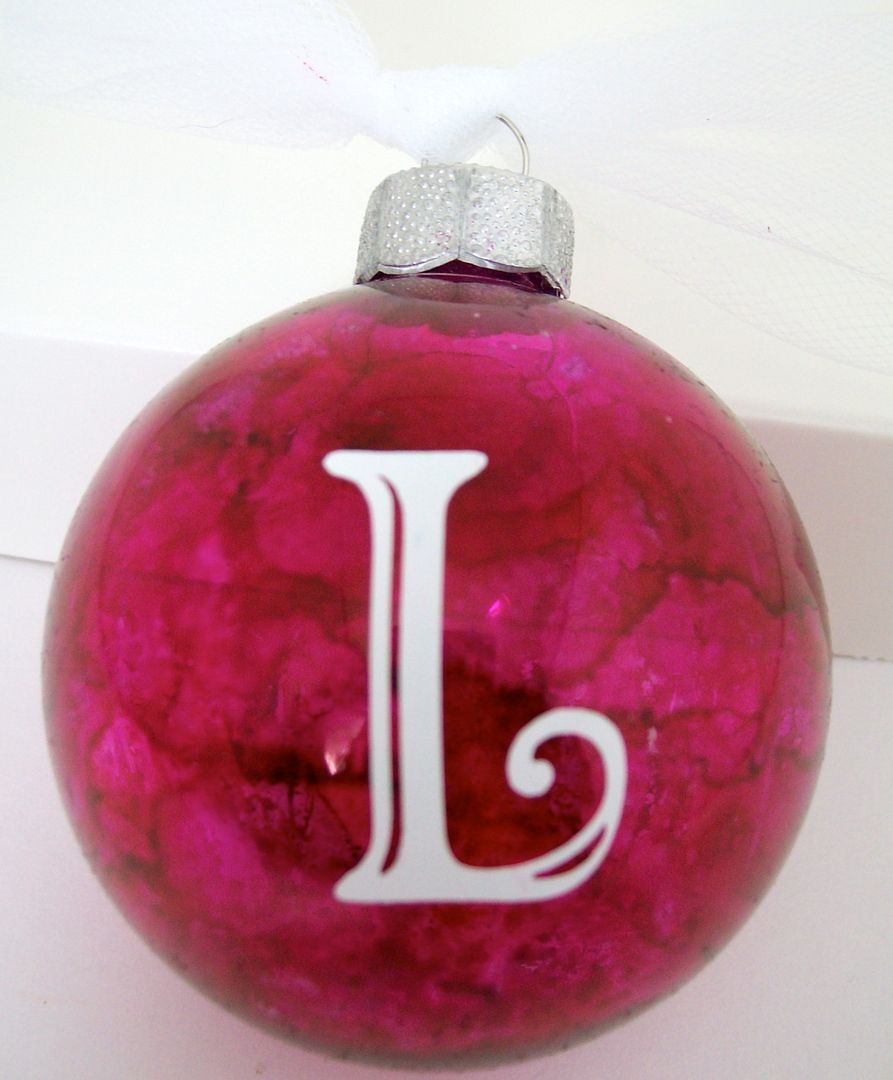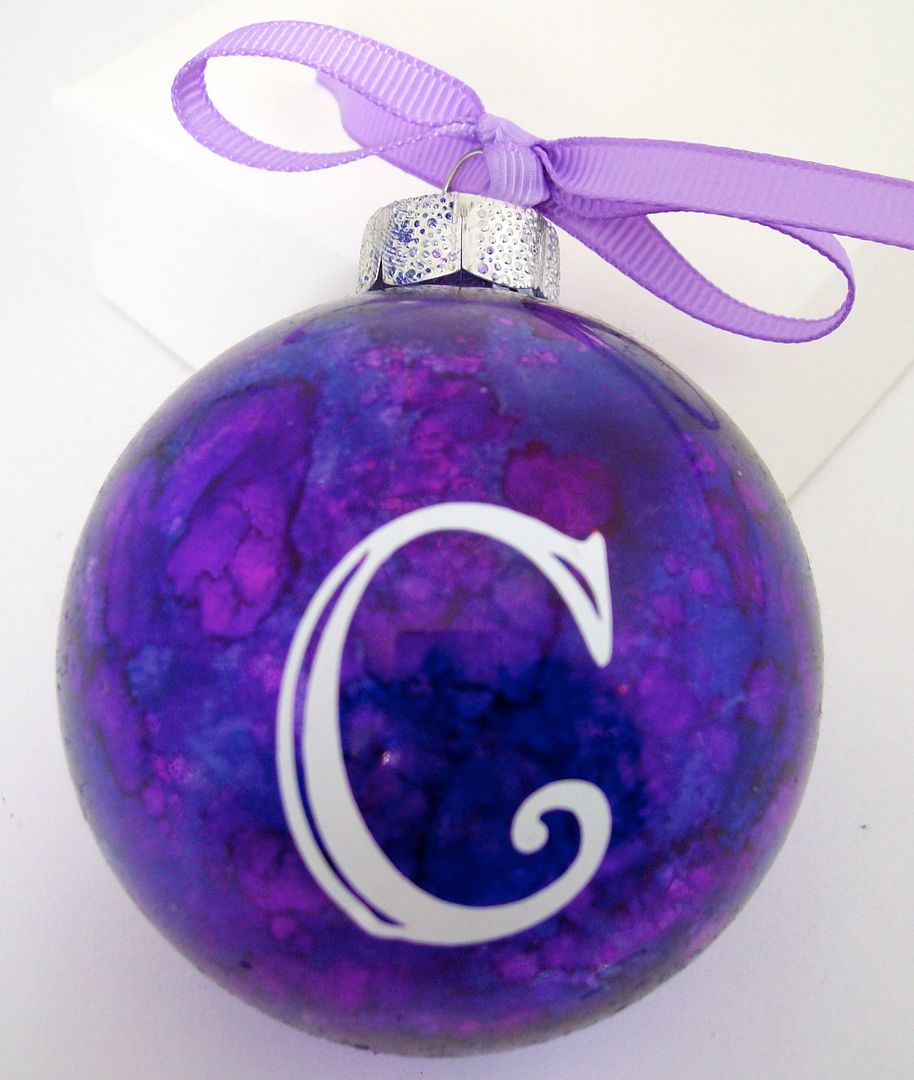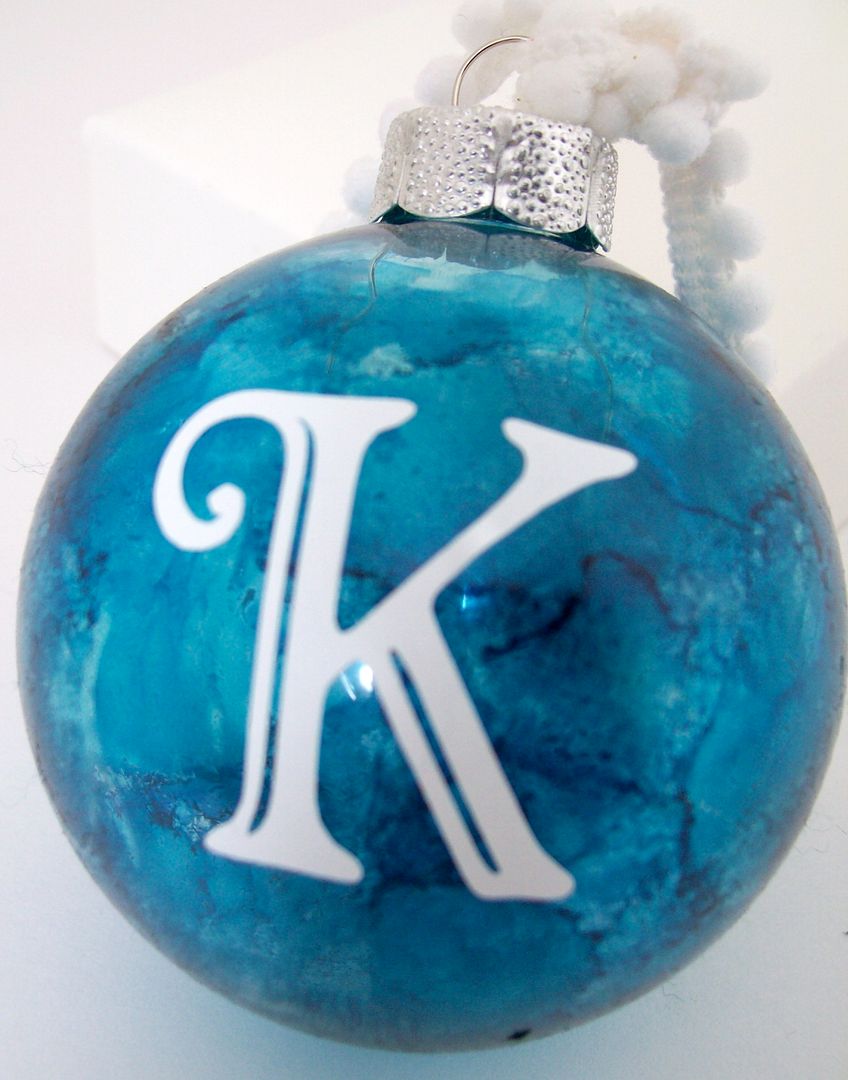 TWO BONUS DESIGNS FROM OUR FABULOUS GUEST DESIGNERS: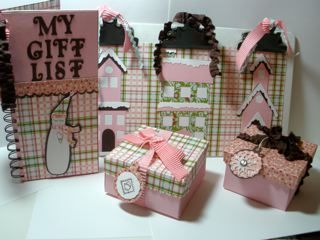 Barb really outdid herself with Crafty Gift Saturday! See the photo above - there's even more things out on her blog! And all of it is so darn cute, I can't stand it!! Great ideas here so to find out more about how she made this, click
HERE!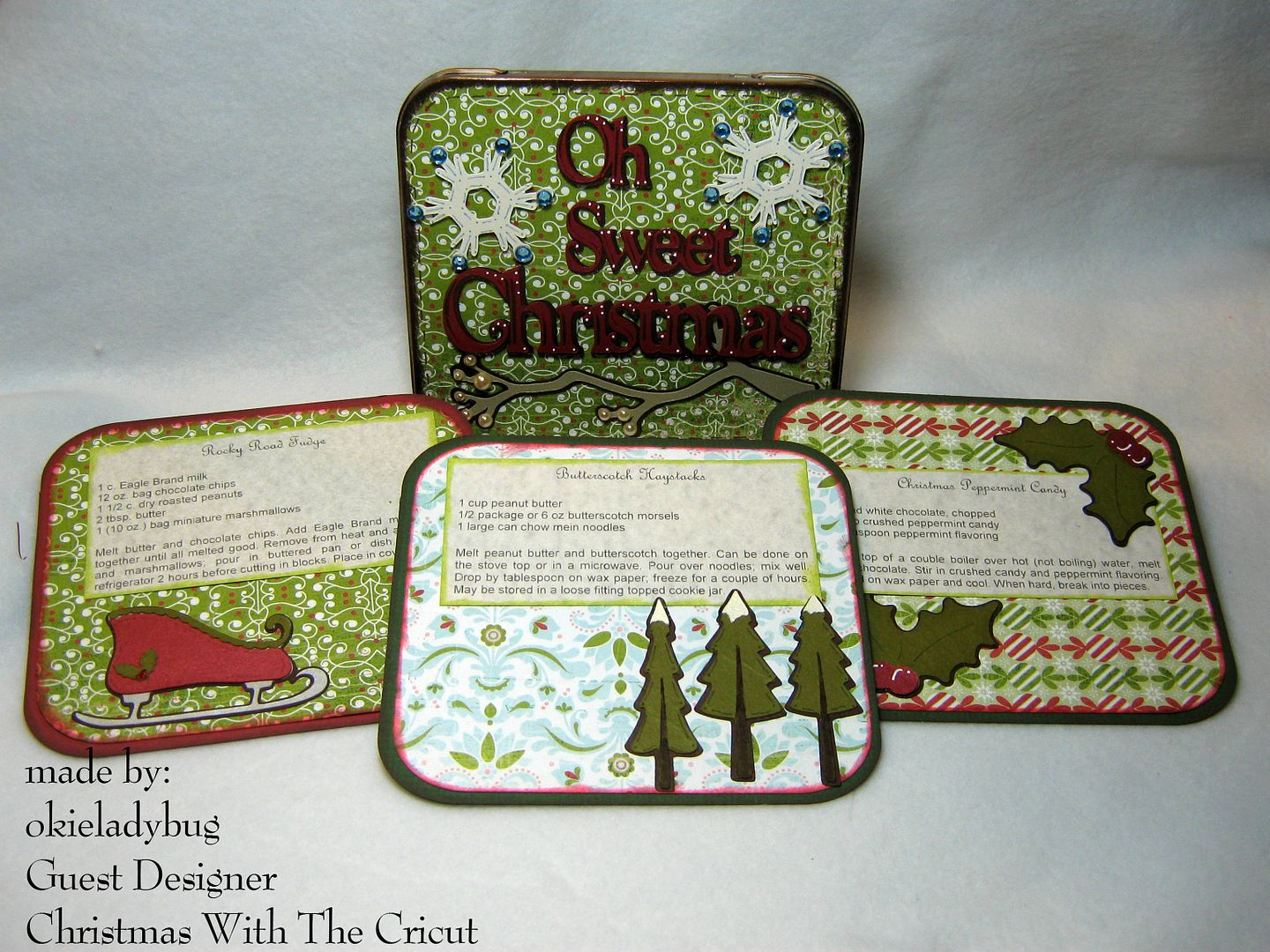 Shirley has made the CUTEST recipe album tin! Wait until you see it! I just want the recipe! LOL! Check out all the details by clicking
HERE!
Our guest designers have done an incredible job this past week!! They have made the most gorgeous items and we've enjoyed being able to show some other takes on the Christmas projects! Thank you, Barb and Shirley, for all you've done this past week!!